The First Escape
May 12, 2011
Everything was in its place. And still, still and quiet, which was not really quiet, being an even texture of creaking walls, ticking clocks, and breathing. Both her parents' bedrooms emanated a slow, steady breathing. [K] stood still, becoming a part of the silence.

Her knees were locked, and her knuckles were stretched with the tightness of her fist, for nothing the house was as loud as her heartbeat and slow breathing. She waited, it seemed time. It had seemed time for an hour now, and so she started to move one foot at a time to her window; slowly, slowly. She surprised herself with the loudness of her steps. She hesitated, then pushed the cold glass open with one smooth thrust.

Open!

The air was fresh and cold. Freedom had never felt so full of hesitation, it seemed to her, as she planted her bare foot on the sill, grabbed both sides, and pulled herself through, sitting on the sill to slide down. Fortunately, the layout of the first floor windows beneath her provided a small but shingled awning just below her window. She stood on this to turn around, closed the window (though not completely), and, softly jumping into the loamy garden, she was out! She was not so concerned with being quiet now. But oh the thrill of freedom!

She was as afraid as before, and as nervous, too, but it was no longer a stiffening fear that locked her knees and elbows; it was a loose, fluid fear that chased through her veins and sped her heart with icy fuel. Everything seemed so much clearer, and so much closer. The outside is not so different from the inside after all, she decided. At least, it didn't feel much different. Just more open and omni-directional; not so square and angled. She breathed in the possibilities.

It was not so cold after all.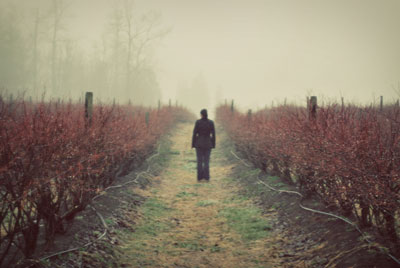 © Molly H., Lynden, WA