The Boy and His Ocean
May 14, 2011
He was an odd man and his compassion was stitched with the trial of an infantile boy. Goals set for him; yet he allowed his heart to wander and he frequently misplaced his sentiment. His actions were bold but his past life questionable. I couldn't help but assume this someone I cherished was always hiding something…

Like I mentioned before, he was of the unusual type of male. He owned a strange obsession of water; of the sea. Observing his soft actions I would watch him every morning complete the same ritual.

At about 6:40 am every morning he's slip on the feet of his grandfather and covers the sleeves of his skin with the sleeves of a long dark jacket. As the angels removed their paint brushes and conducted a majestic masterpiece of charming ginger and spectacular cherry to open the scene of a day he swiftly stepped across the white porch veranda; Gliding down the small set of steps onto the sand. The scathing damp grains that detained a perfume in the air; the scent oh so pleasantly kissed him. He treasured her wind kisses more than the fondness I offered him.

The location behind my left breast would ache when I analyzed how she teased him. Her motivation: Pure Seduction. Rumbling waves and crashing concertos call his name. She wants him for her own and only her own. Her fierce cerulean body would surge majestically as it lunged toward him, her limbs tumbling tenderly over one another. Elbows out reaching, she holds a nimble hand always offering him to arrive and adhere to her. Crystallizing body that became iridescent along with the golden horizon. Drops of sun danced with the luminous art of her skin. Her hypnosis torturing him in an eternal delusion for her love.

He found true pleasure from her company, her stroke, he found her irresistible. Something I would endeavor to give him, but inevitably I would by no means be able to establish the bar of satisfaction she applied. My competition failed.

She literally draws him back, extending her elongated sapphire arms.

But the young man I love is blind. Blind by this obsession. Blind by his love for this nature he can never abide to. Never hold or cherish. In complete fact he yearns for her so badly. Badly enough that I do deem he would submerge himself underneath her blue cobalt waves as they crashed down striking his face.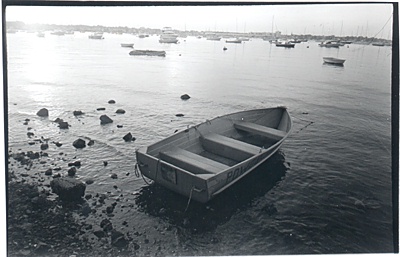 © Chris M., Marblehead, MA