Cut Open and Drained Of Blood
May 20, 2011
I sat turned away through the rest of the class. I couldn't pick up the probe, except to scratch a deep X into the black wax on the dissection tray. I couldn't pull off the wings or poke at the eyes. I wouldn't cut through the base of the head and cause blood to spurt from draining spaces. The small voice in the back of my head wondered what it would be like if this was all reversed.
The other students squealed in disappointment when it was announced that this wouldn't be a dissection, but rather an external observation lab. Made no difference to me, or the alien specimen pinned upside-down in front of me.
The teacher was making rounds of the class. She picked up one mangled corpse after another, turning them around in her preservative-soaked hands, examining their mouthparts and identifying gender.
She was a zombie, too. She felt neither disgust nor delight at this everyday horror. Room B310, come in between 8 and 3 and we'll teach you the ways of the world. Your heart for an A+.
I could see myself on the dissection tray only too easily. I could feel myself being poked and prodded, numb and paralyzed. I would try to spread my wings to escape, only to find they had been cut off by a grinning teenager with a pair of metal scissors.
I dug the probe into my arm, just to see what it would feel like. Behind me, I could hear arguing about whether it was ethical to cut me open. Do it already, I wanted to scream, though my lips were paralyzed from months of soaking in a jar. The small voice in my head nodded in agreement to one of the boys' argument against dissection.
I felt the pins being removed from my legs. I had freedom to move, but no life to move with.

I was numb through the rest of the day. I talked when told to talk, moved when told to move, and sat silently through the rest. No one approached me. It wasn't until band rehearsal after school that I felt my stolen life returning. People began to talk to me, and I talked to them. They asked me what had been wrong, but I didn't know how to answer.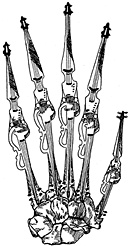 © Grant G., Martinez, GA