One Difference
April 15, 2011
I had seen such things before. One person being shunned for their differences. For some reason this time I couldn't stand it. This time, too many people had joined. Almost they had pulled me in as well.

"She's so annoying!"
"Ugh, I hate her."
These are what they say. I brought me back to my childhood. I was once her. I had been that one who thought she was accepted because people talked to her. It made me angry.

"You're such a hypocrite! You call yourself a Christian? You're no better than a nice atheist! How dare you tease her, she has never done anything to you. Nor has she done anything to deserve this isolation we've forced her into! If I hear anymore from any of you about this, I'm going to make sure you regret it." I made sure my glare reached everyone of them. Staring past their rhetoric lies and right into their hidden insecurities.

"Sharon, sit down." My teacher scolded me. I dropped back into my seat, still seething.

"Yeah, Sharon, get back in your seat." Noah mocked. I shot him a look and his snootiness withered. The rest of the class no one could concentrate. I knew I had hit home with many of them. As the bell rang I closed my books and walked out. She caught me as I left.

"Thank you, Sharon." She whispered. Her voice was barely above a whisper. Tears streamed down her face. Several of her friends walked with us.

I sped up my walking, leaving her and her friends behind. I knew tomorrow things would still be the same. That was the problem with these high schoolers, they still acted as if they were in middle school. I don't remember walking to the top floor for my next class. As I entered the room, the athletic guys quieted. No chorus of "Hey!" followed me into the room. News traveled fast.

One of the guys I had yelled at walked in. He couldn't meet my eyes. He walked over to his friends and sat among them. They started chatting again, but I noticed his voice was absent from the conversations. Another kid walked in.

"Hey, Timothy, I heard your class got lectured." I didn't turn, but I could feel his gaze hit me. I scooted back in my chair and put my head down.

"Yeah, Tucker, we did." was all he said. I could feel his gaze still on me. My friends walked in next. They were worried the moment they saw me. I hadn't waited for them, and I was crying.

"Sara, are you okay?" Cass asked as she sat across from me. Virginia sat next to me. Anne across from her.

"No." was all I could get out. The room slowly got quieter and quieter until no voices were heard. She walked over to me.

"Sharon, thank you for standing up for me." Her eyeliner was smeared down Her cheeks, but Her eyes were sparkling in a way I was sure no one had seen before. "It really means a lot."

I replied with just a slight smile. "I'm not sure it'll do much. Like in the movie we're watching. They saw the genocide happening and did nothing to help." I looked back at my hands on my desk.

"Hey, Sharon, what's wrong?" Tucker asked, he sounded as if he was ready to tell a joke.

"Too much. If you wanna know the whole story, you'll have to ask someone else. Timothy or Mike perhaps." I said with more venom then I meant.

"Sharon yelled at our Spanish class for teasing Her." Cass gestured at Her as she spoke.

"Oh." was his reply.

*********

The rest of the day was a blurred memory. The next day I was first into Spanish again. The other students who followed me in were silent when they saw me. Those who knew I had been mostly yelling at them were just staring at their shoes as they walked in. No one teased Her, no one made a mean or rude comment about Her, but they ignored me. They couldn't face their shame, so they wouldn't face the one who shamed them.

"Sharon, Mr. Maas would like to speak with you." I heard snickers and whispers behind me as I left. The hallway was silent as I walked to the office. I walked in and found Her in the office already.

"Sharon, would you tell me what happened yesterday?" he asked calmly. I sat down.

"All year long people have been mercilessly teasing Her, myself included...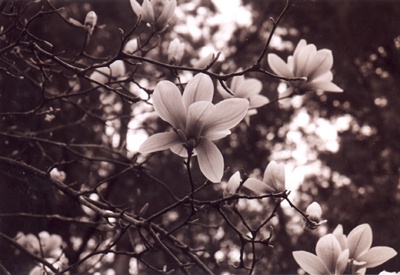 © Lauren T., Hopkinton, MA