Chasing the Sun
March 13, 2011
The children gathered in a silent hush, their bodies slightly pulsing with excitement. He was coming. As the fire crackled and danced waving its way across the shadows of night, they stared in wonder, the flickering gleam reflected in their eyes.
All bore a similar resemblance, the same skin pallor combined with a russet hair tone, but relation was more distinctly noticed by the open yet cautious expressions painted on their faces. At each passing moment the level of enthusiasm increased. Each child anxiously waited while the tray beside them containing mounds of plump fresh marshmallows, crunchy golden crackers, and rich creamy marshmallows remained untouched.
In the distance, a man slowly made his way towards the group. Every figure simultaneously lifted their heads, excitement brewing inside them. As soon as the man sat down among his kin all movement stopped and not one breath was taken. Suddenly his voice began to flow, and the children gave a sigh of relief as their grandfather finally came to deliver his gift. As the story began his whimsical voice lifted everyone into the tale and the lines of reality faded and blurred.


"The year was 1964, the place Missoula, Montana. Good friend of mine Woody and I, best of friends, decided college wasn't for us. We were tired of it, it was blizzarding, it was fifteen degrees below zero outside and we said we wanna go where the weather is good and get a job. Enough is enough."
The old man put his hand to his eyes he remembered the great chill and the bitter frost that always seemed to fill the air. The everlasting expanse of colorless earth that stretched across Montana in the endless months of winter. The ashen sky which swallowed the light and the color and the sun creating an endless abyss of gloom. The children stared at him, he took a deep breath and continued.
"Just so happens I had a car. It was a 59' Chevy. I had 75 dollars--Woody had 25. 'We told our parent's thank you very much goodbye. We will keep in touch.' Then we turned our car south and headed for Las Vegas Nevada. We had just arrived in paradise."

He smiled broadly at the children and put his hands out to the crackling fire. He could still recall the sun sinking into his skin, and he could remember devouring its warmth.
"About out of money we checked into a hotel for eight dollars a night. And the next morning we went searching for a job. Sure enough, the next morning there is a big ad in the newspaper that says 'Good Money, need sales men, selling fuller brush door to door.' Wow, perfect for us. So woody and I go knocking on this guy's door and he immediately hires us. Woody gets a territory that happens to be in shantytown. Well, I got lucky I happened to be in the elite part of town. So each night when we came back after our day of knocking on doors we would compare notes and as it turns out the rich people do spend a lot more money."

He laughed, rubbed his thumb against his fingers, and repeated "Yup, rich people spend a lot more money, so we had a nice kitty. Next we'd go over to the manager's door and he would pay us our commission each night we'd try to figure out if we had enough money to eat and pay the bill for the hotel room. We did just barely."

He looked at his grandchildren and saw a bit of confusion, one brave youngster asked, "grandpa, why did you have a kitty?"
"No, no" he chuckled lightly, "a kitty is shared money, everyday Woody and I would pool however much we earned." An understanding sigh of relief filled the air and the children anxiously waited for their grandfather to continue his story.
"After about a month of living hand to mouth, we decided this is not for us. Door to door sales didn't make the cut. So we headed further south to Palm Springs California. Well, I was in the golf business, I loved golf and I was a pretty good golfer at the time. So I ended up getting a job at the Thunderbird Country Club. It was very private and very exclusive. I caddied for hundreds of celebrities. It was fun work. As it turns out, Woody wasn't as lucky, he got a job as a bus boy at the top of the Ariel tramway. Not a glamorous job but it paid the bills. And here is the way it worked. I would drive him from our little hotel room all the way up to a way station where he would meet another bus boy named Boston Harris who would drive his car up half the mountain where they would jump on the tram and take it all the way to the top of the mountain."


In his mind, the grandfather could still picture the majestic mountain exactly as it stood. Its pass stretched eight thousand five hundred feet into a sapphire sky. Everyday the men trudged their way up this formidable and beautiful
pass and wound their way up the slopes, rising above a massive ocean of foliage and vegetation.
"Those poor guys would bus all day and do their work, and they'd ride down the tramway with Boston Harris and then they'd drive down this very steep and treacherous mountain bringing him back to our hotel room. Well, as it turns out I got a call one night and it was Woody and he says, 'Can you come and get me? Boston has to work at a party and he is gonna be a little bit late tonight, so he is not gonna be able to take me home.' So I drove up, picked up Woody and we came back.

The man paused and stared at the fire for a few moments before continuing. "Later that night the telephone rang, it is Boston's mother and she was crying. And she told me that Boston drove his car off a cliff while driving home that night. Boston was dead."

There was a collective gasp from the children and not one of them moved. They all sat paralyzed imagining his truck slipping off the side of the roadway and tumbling end over end. They could picture the truck's crumbled remnants resting at the bottom of a ravine. And their grandfather noticed their pained expressions, "Yeah," he said thoughtfully, "it was scary for us too."
He continued, "What a wake up call. The next morning we got all the money that we had left and said you know what, this working for a living when you are nineteen and twenty years old being a bus boy and being a caddy doesn't get it, let's go back to school, so we called our parents and said "we are just about out of money, we've learned our lesson we wanna come back home and be somebody. Can you send us some money?"
"And they said we will send you twenty dollars each, that's it, you figured out how to get there now get back."

So we figured it out and I'll be darned, we went back to school and yeah we became somebody."

As the story and the fire faded, the lines of reality came back into focus.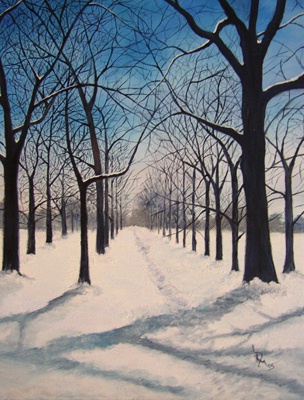 © Lauren M., Scotch Plains, NJ