I but you too.
February 25, 2011
I watch her.

She is surrounded with friends and I see her joy fill the room, but am I the only one who watches her pass by as she hides the chilling depression with pathetic smiles?

I follow her.

She goes out the door, out of sight, so I follow like an obsessed stalker I have the potential to be. As soon as I see her, she smiles and laughs until her face contours with pain as a forbidden name is spoken.

I join her.

She starts to speak quietly, so I join her group and thankfully I am unnoticed. I hear respond awkwardly to her friends' persistent attitude about how she should move on and forget.

I notice her.

A flicker of emotion passes over her face which contrast greatly with her glossy eyes as she says she would never forget, and how there is nothing in life that she desires enough to move on.

I hug her.

As her friends slowly disperse, I stay. She stares into my eyes and I stare into hers. Her eyes tell me a story; one that I would never forget. To wipe away the raw emotion that hurts her so much, I hug her.

*

I sneak in her room with the agility most gangly males shouldn't have. I see sit on her windowsill, invisible to her. That's what I'm good at….invisibility. She never notices me when I stare at her beauty that fades with every passing day as she is reminded of the pain. Every song, assignment, word, lyric, lecture, movie and life reminds her of him. The coward who broke her heart, left to be never repaired. But I am willing to break into her shell and force her to the safe haven of my heart. I love her, but one problem…what's her name?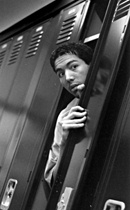 © Paulina A.,Marblehead, MA