The Ocean Just got More Beautiful
January 3, 2011
I held onto my pink and orange suitcase, protecting it like the finest jewel, since it held everything I would need for the next 2 weeks as I spent on a cruise to the Bahamas. I huddled against the wind as I made my way up the dock. My mother was behind me, accidently plodding me along with the edge of her suitcase. The ship was massive, yet a wonder. My grandparents must have already boarded, they said they would meet us at our cabins once we arrived. "We must hurry, the ship will leave in…" my mother said checking the watch, "Half an hour." She said pushing me farther up the ramp. I nodded my head, and hurried along as I began my trip towards our cabins.
When we reached our cabin, flanked by my grandparents cabin and another passenger's. We opened the doors and dropped our tossed our stuff on the 2 beds. My mother stopped me before we opened the adjoining door, she hugged me and smiled. "I'm so glad we're here, we're going to have so much." She said excitedly, I nodded my head as I advanced towards the next room.
My kindly, slightly plump, Grandmother was transferring the contents from her suitcase into the open drawers. My grandfather, who was in a fit condition for the age of 65, was unloading all of his tracksuits into a second set of open drawers. I saw a plate of my Grandmother's chocolate chip, raisin cookies and reached for one, but my mother pulled away. "Dearie," my Grandmother said ushering me into her open arms. I hugged her, and then my Grandfather. My dessert cooking Grandmother offered us a plate of her cookies. I grabbed 2 and then looked at my mother smugly. I bit inside and it was just perfect, soft and gooey, a little crispy on the edges, and the chocolate chip was half melted into the cookies.
"Delicious Grandma," I said brightly as I reached the middle of my cookie. The mid- 60's woman smiled as she finished unpacking the contents of her bag. My Grandfather was jogging in place over by the side of their bed, and looked anxious to take a lap around the sky deck. I, myself a stickler for fitness, turned to my Grandfather. "Do you want to jog a lap around the sky deck," I asked happily. He nodded his head in eager excitement, and then we plodded our way out of the cabins and towards the stairs.
The sky deck had a better view than from the dock. There were green and blue lounge chairs set up, a few with loungers napping or tanning. The slight sea breeze made the trip more magical, and the sea rippled as winds softly blew. Never would there an equally wondrous image on Earth than this magical thing, the sea.
After our nice lap; my Grandfather and I went over to the rail to feel the ocean breeze. "It is amazing isn't it? Just think of the hundreds of creatures that live under that vast, blue blanket." My Grandfather, a major in science, said in awe. I nodded my head, not wanting to speak, just wanting to be in silence and peace with this ocean.
My Granddad walked off towards the bathrooms, and I just leaned against the railing sticking my head slightly out over it.
Then I felt a light tap on my back. I turned around to find a boy with caramel hair and blue eyes standing behind me. "Hi," he said.
The ocean just got more beautiful.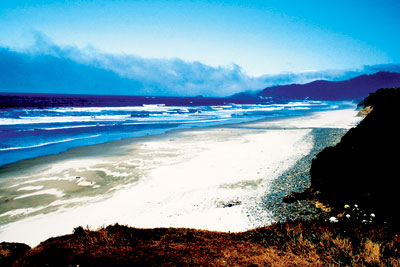 © Kristin R., Los Altos, CA