To Dare - Prologue
December 27, 2010
Jade dashes toward me, ebony locks bouncing franticly, a loaf of French bread clutched in her small pale hands. Her five-year-old face is dripping with tears of horror and shame, and I reach out, folding her into my arms. That's when I hear the sirens. She is sobbing her apologies, but it is too late. I wrench the loaf from her hands, my own thin face pinched with fear and determination.

The police car screeches to a stop in front of me and a doughnut-loving officer stepped out, towering over my quaking form…





Beck jolts awake, glad for a moment to be surrounded by cracking walls and laying in the familiar discomfort of his lumpy mattress rather than in the cramped back of a police car. But then the reality of his situation hits him, and Beck is filled once more with bitterness at the world that has dumped him, so unceremoniously, into manhood.
He heaves his muscular body out of bed, the abused floor creaking as he slams his feet down upon it. He pulls on torn jeans and a white tee-shirt. His biceps tense in fury at life, seeming to struggle against the barbed wire tattoos encircling each.


He stumbles into the filthy kitchen, switching on the coffee as he walks by. He leans on the counter for a minute, rubbing his aching head, trying to smooth away the stubborn hangover. That's when he notices he is alone in the kitchen. Fury contorts his harsh features and he storms into the living room, where his dark-haired sister lies curled on the couch. He pushes her off roughly.

"Get up Jade! You can't miss another day. The feds already won't leave me alone!" Jade jumps up, her high cheekbones marred by bruises. Her fist clenches by her side, ready to defend her self, but after glancing at Beck's face she simply storms off to the bathroom without a word.



Jade changes into torn black jeans and a low rocker shirt, constantly bumping the walls of the cramped little bathroom. As Jade deftly spreads makeup over her bruises, Beck leans heavily against the kitchen counter, messaging his throbbing temple and sipping on a cup of strong coffee.


Jade finishes and they sullenly begin the walk to the West Side High School. Jade walks a few steps behind her brother, shoulders set stiffly back and a hardened smile forced upon her face. Her long strides are cut somewhat short as she walks in Beck's intimidating shadow. Her hungry stomach is twisted with fear, never knowing quite what to expect. As they walk, they pass a person getting a ticket from a tall policemen. They instinctually turn away and shuffle the opposite direction of the flashing lights, and Jade is thrust into despair.


Our parents walking out on Beck and I.
Stealing to live.
Beck went to Juvie for me.
Never been the same.
Can't even look at police on our way to school.

Jade forces the memories away, broadening her Barbie smile. No one needs to know how much her past bothers her. There were plenty of people around her town who had done the same – if not worse.

Beck is almost always drunk even though he's only 17, he consistently drives that way, he breaks into all sorts of places, and he abuses Jade…. But hey, he hasn't done drugs, armed robberies, murder, or anything else of the sort. Jade sighs - that's something.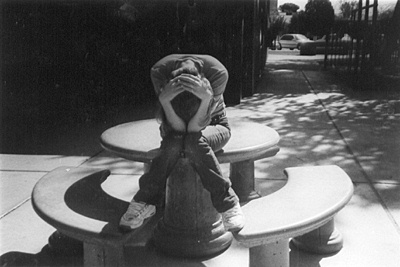 © Catherine R., Phoenix, AZ