Paint It Black
November 21, 2010
'You're to young' 'You're to nieve' 'You're not alowed to yet' Blah blah blah. Yes. I am mad. I'm mad at all the people who told me I can't. I'm mad at all the people who told me I'm not able to do something. Yeah, sure. I'm not an adult yet, but who sid I'm not as mature as one? Who said that you have to be over a certain age to go have fun with a friend? Well not me. I have had enough of this s***. I don't need this.
If I wanted to, I could run away, and never come back. I mean, I would, if only I was ALOWED TO GET A JOB but noooo, Mom says that I should focus on school, not money. Yeah? Well what happends when I graduate in a month and don't have a job and because of that, no place to go to college because I couldn't afford it?
You know what? Screw this. I don't deserve to be talked down to. All those people who don't believe I can handle it, well they can put a straw in it and suck it.
I thought all this as I drive home from school. The second I walk through that house door, I'm fuming. Theres a note that said, "Be back tomarrow morning. Don't leave the house, no ordering food, and no friends over." It's from my parents. I check the fridge, nope. Nothing. What do they expect me to eat? We don't even have bread for a sandwich, or cereal for dinner.
The people I know, act like they don't care. So if they don't care about me, then why do they care about what I do?
All this stuff just agrivates me so much. I run downstairs, slam the door, and notice a blank canvas. What do I paint on this canvas? I paint what I feel, what I wish things would be like.
I paint it black.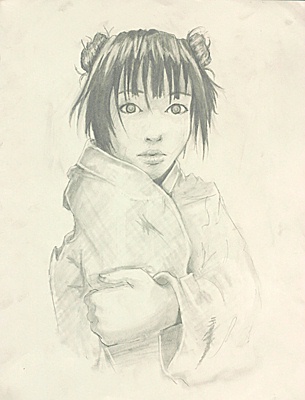 © Emily H., Port Charlotte, FL