Just Keep Running
November 20, 2010
He wraps his arms around her middle. She cranes her neck so she can peck him on the cheek. Their eyes meet and they linger for a second. "Don't say it yet. You know what happened with the last guy. There's no such thing as love,"she reminded herself in her head.
"I love you Carrie,"he whispers.
"I uh, I have to go. I'm sorry,"Carrie rushed. She ran out the door. Jonathon sat there in shock. He truly loved this girl and he was willing to move to Montana just to be with her.

"I can't believe I just left him there. How can I be so stupid?!?" Carrie yelled at herself while she sped out of town. Running away was something she was good at. It was the one thing that her and her mother had in common. Whenever mom's boyfriend proposed or suggested marriage, they'd both pack up and move to a different state. This quickly became normal to Carrie and she eventually adopted that habit in her own love life.
This time was different though. Tears formed in her eyes for the first time in what seemed like forever. She cursed at the empty road ahead of her. "Why did you let yourself grow attached? You know that love isn't real. There's only lust and lust is as good as it gets but lust doesn't last forever," she recited,"Move on. Move up. There's plenty of men out there to have lust with but get out of there before he tries to get serious because that's never any fun. Just get out, run." That was the rule of her world and her mother's. Just keep running.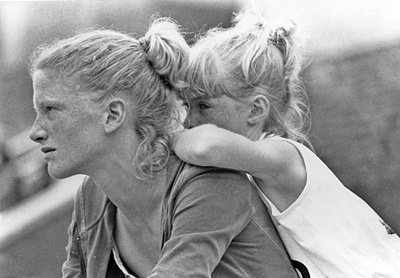 © Felicia F, Marlow, OK