Let me out
November 19, 2010
That's it. I've done it.
The thing iv been reaching for my entire life. It swirls and teases and pokes its tongue just inside the doorway of the vortex that opens when you close your eyes. That one moment you always look forward to and crave and taste, but you never see until its behind you. And even then you have to strain your neck. But just as it pushes past, that's when you feel like this.
This is what flying feels like.
For the last eleven years, maybe more, maybe less, I've felt as if I was suffocating. Something callas and stale with fingers of cactus and bristle was latched to my chest. It was as if my shadow was sticky like one of those little rubber lizards that Jacob threw at the ceiling above my bed that year the Swans won the premiership off the Eagles and he cried. And it just stayed there to dangle and gape and say, 'why are you still here?'
My shadow was poison, and it tugged me to the ground. It just kept tugging. And whining and making the world look monotonous and drear. I know I will grow to regret this. With only six months 'till I would have graduated. They'll be ashamed. But I'm not.
There's no possible way to see forward. We are blind, all of us. In a big round room all pushing and scratching and drowning in each other. That's just how it is.
But this feels different. I can swim and let time wash over my face like the breeze. I can't believe I just left. Mr Kane barely even noticed as I stood up and walked out. No one else was conscious enough to hear. My books are probably still sitting there abandoned with quivering lip, like a baby on a doorstep on a thunder-filled night. Stuck. In a world of people who trip on their feet.
I don't know why. Maybe it was the weather. The sky was a dome of crowded clouds, and it all added up to too much. A strain too big for its gumboots. Like that hippie song Britt used to sing out of tune, by Simon and Garfield or whatever. "They hang there and wait to die, they don't know where they're going and my friend, neither do I."
It's not like school was too much for me. People respected me. The teachers knew my name, and my marks have never been bad. Routine and predictable days, I guess, were too much to smile through. Like hour-long bus trips, of screams and smelly feet and mushroom clouds of dust who swarm and itch your throat. On the same road of dying trees. The road of his cross.
So when that last pen ran dry and no amount of scribbling and cursing and scarring the page and boring a hole through my notebook would suffice. I had to go. Which is why i am. My lips without a word of explanation to offer, or a functional pen for a note. I'm not running away, I'm just going to go.
Already the smooth, too smooth tired of my hobbling Volvo caress the highway. The horizon is mine. And there will never be anything to stop me again.
I am catching the trade winds in my sails. I will explore and dream and discover and taste the earth. And I don't care if it kills me. I don't fear the palm of death.
At least then I will know, then, that I had lived.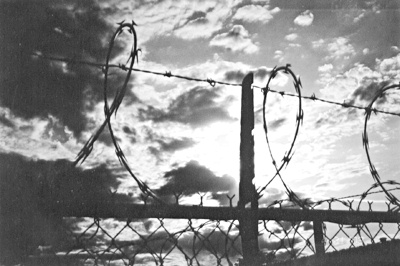 © Jessie W., Wichita Falls, TX