Help-by Kristin Shaw
November 5, 2010
"Who is she?"
"The new girl, look."
"Where?"
"Over there…the one with the black hair."
"She's sitting by herself."
"Loser."

She shows up with scars and scratches on her arms. She always wears long
sleeves but we see them during swim season. She takes off the shirt and the scars pop out
against the white of her skin. The scars run down her legs and onto her toes. Her bathing
suit hides the rest. Her eyes are always lowered, as if unable to meet our judgmental
gazes. We sneer at her. We laugh at her. We curse her. She walks through it, oblivious
but always knowing.

It was the first day after Christmas vacation. We don't see her. Everybody looks,
waiting for her familiar dark head to pass under their eyes. There is no one to sneer at.
There is no one to laugh at. There is no one to curse at. We all breathe uneasily. We need
someone to talk about. Without her, we are all lost and confused.

She comes back a week later. We all breathe easier, now that she is back. She
wears a short-sleeve T-shirt. We see fresh, new scars. The pink lines making gruesome
patterns along the curves of her arms. She wears shorts. Intricate designs line the back
of her legs, tracing images of anger over her ankles. Her hair is up in a ponytail. We all
wonder at her difference. No longer is she hunched over her homework. No longer is she
slouching away towards the shadows. She stands proud and tall, displaying her pictures
for the world to see. I talk to her one day. She says that she would like to have a friend. I
laugh at her. Everybody laughs. She catches me at the bus stop, later.
She says one word.
Help.
I sneer, laugh, and curse at her. I don't care. As we all board the bus, she stays
behind. As the bus pulls away, I look back at her and see the distress on her face.
I smile.

She doesn't come back for a week. We hardly notice her. We don't need anyone
anymore. We don't have to talk about her. We don't have to sneer at her. We don't need
her. Our principle comes in. She bows her head and looks at a piece of paper. Her hand is
trembling and her voice shakes.

"Students, I am saddened to inform you all that Monica Garrett has passed away
last Tuesday morning…"

Help.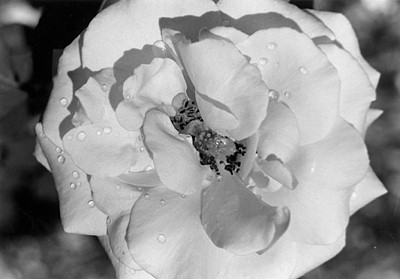 © Kristin O., Quincy, MA