Silence
October 24, 2010
24 September 2010

"Hey!" I said to Jake, "How did you on that test??"
"Not so good D, what about you?"
"Amazing!! I am so gonna ace this test," I told Jake like the big nerd I am.
"Cool!" he said thumping me on the back, playing along. Jake was my best friend. I could tell him anything.

Now you must be wondering who "I" am.
I am Debbie Johnson. Only my closest friends have the liberty to call me D. I am 5.3" and slim. I have short brown hair which frizzes a lot during the rainy season, other times it waves gently coming to a rest just beneath my shoulders. I have fairly clear skin with pink lips, which part to show braces.
Sadly, I don't even have blue, green or golden eyes, just dark brown ones which are regularly underlined with kohl. I am an average looking girl but I can look good with a bit of an effort but usually I'm too lazy to do much. I do have long legs but they are generally clad in jeans with a loose tee on top. A million colored bracelets usually jangle on my hand.

Coming back to Jake I have known him since 7 grade and he can read me like a book and vice versa. He's a drama queen but I love him. Don't be mislead though, this is not the story where the best friends fall in love, here I fall for my boy bff's best guy friend.

It all started in 8 grade. Jake introduced me to Shawn and later Jake told me that Shawn liked me. Now I had known Shawn for a long time, but we weren't friends, although our parents were friends. Shawn and me, we started talking and then well I too, developed a crush on him. However, he had a rep. in school for being shady. My girlfriends told me that he was bad news but I didn't believe the rumours, after all I knew him now.

We started going out and exactly 3 days later, he told me that he loved me. I was surprised but I said I love him too. It might seem really soon, but I knew it was right, I had never been so happy, and I had all the right feelings, the insomnia, the songs, the fact that I couldn't concentrate on anything and the moony smiles.
I had always been shy, so I blushed easily around him, never quite managed to look him in the eyes, so I had a conversation with his shoes mostly.
He just threw me beatific smiles which transported me to heaven.

I was so happy, but then the clouds came rolling in. We stopped talking, and he didn't seem to care anymore. Seeing this, I got hurt, so I closed up, built walls around my heart and he didn't try to break them. So my era of happiness ended in five and a half months and the depression began. I cried buckets and even then I didn't run dry.
Everything reminded me off him and I couldn't bear it.
Months passed and I slowly recovered, got my laughter back and found the will to live again. I found that I was able to look back and smile upon the happy times instead of feeling hurt.
Still, one thing always haunted me. What had I done that broke us apart, because in my opinion I had tried everything to keep it from falling apart but I never found out, until this day of our test.

Back to 24 September 2010.

As I was talking to Jake, Shawn came to stand with us. We could be around each other, but we weren't exactly friends. So, we said a few words to each other and then, they both walked away leaving me to stare at their backs. It was sad, that a person around whom, I felt at ease now made me want to sink in the ground.

As I was talking to Jake that evening, he revealed something to me, something that rocked my whole world.

Just a few weeks before breaking up with me, Shawn had asked me not to talk to this guy, but he had refrained from telling me the reason but Jake finally told me.
It was because Shawn had been jealous because I had been spending time with that guy.

I thought about it and I realized, Shawn had thought that I was distant and detached when I was merely shy. I remembered, when he told me he is going to breakup with me, instead of shouting in protest or crying to show my grief, I just said okay, but only 'cause my brain hadn't comprehended the full extent of what he said, after a full hour the enormity really hit me and I let out an ocean of sorrow from my eyes.
The next day in school, I was a zombie, I didn't look at him but the tears would not hold back, they brimmed in my eyes and then slipped down my face. He saw me crying, he asked with concern why I was crying.
I regarded him with appraising eyes, trying to decipher him. However, I remained silent.

He called me that day to apologize and to try and make me understand the reasons behind his actions.
All I did was cry noiselessly, but now I realized that I shouldn't have remained mum.

I should have voiced my misery and tried to tell him how much I wanted it to work out but I was too arrogant to plead him to take me back. Maybe, he wanted me to show him that I cared but I only made him more positive that I did not.

As I look back, I realize that I myself am solely responsible for breaking my heart, those walls that I built weren't necessary. What I should have done was to open the paths of communication so that we could discuss our problems and come up with a solution.
I let the best thing that ever happened to me, slip through my fingers because I preferred to keep thinking that I was doing the right thing by preserving my pride.

Now when I see him, I want to go over there and apologize for my mistakes but that just seems like a waste of time, after all, what would I get after all this time?
I once read somewhere that "Relationships are like glass. Sometimes it`s better to leave them broken than try to hurt yourself putting it back together."
So, I'm gonna save myself from all that hurt by doing what I do best, remain quiet.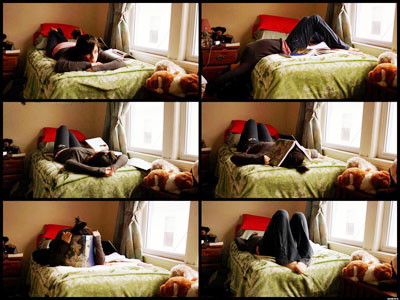 © Ana D., Worcester, MA