The Wall
October 22, 2010
There is a hole in the wall. The wall of sorrows, fading faces and roses hanging upside down. The wall is high and the hole is just right. The hole is waiting to be filled; it seems to be leering at us passersby, grinning, knowing it will soon be filled.
Many faces are pressed to the wall. Colorful tacks and nails pierce the foreheads of a thousand grainy, brace-faced people. Hollywood beauties and fading wall-flowers. They see nothing. They do not hear the tears of their parents hit the concrete. Who are they? Have they been forgotten, their families giving up all hope, knowing that their babies are gone? Lost forever in broken, scattered parts, small fingers of bleached white bone reaching up through briefcases filled with concrete. They will never be found, their murderers undiscovered, unpunished. Someone will fill that hole, another face, another child. Stolen away from the world and replaced with a bundle of fear. They will be taken somewhere dark, cold; their screams will be silenced with death. They will all claim peace with due acceptance of lost hope. Hope for the escape. Hope that they will be saved. Salvation lies in a release of self-pity; giving up is the only solution. Death will embrace you, comfort you, and so shall the end of the pain. No more pain, my stolen child, brother, friend, and sister. I shall collect all of your bones and repair them. To be broken in another life is to be dead in shame. From what is left of your bodies I will burn together, the ashes will rise and dissolve. Peace shall come, I promise you.
Soon it is my face I see covering that hole. I do not know what to say, except that my tasks are unfinished, for my bones are going to be added to the pile. I will be forgotten in time and my mourners will breathe their last breaths in bitter agony. I am a face that shall never return to the arms of humanity. I too have bee stolen away; I too have been diced with the sharp sting of a blade. I have been embraced by Death. His light is too bright, his cloak too coarse. I don't want to go! I am not ready! Please, let me go, let me drift, an entity among the humans, where only some can sense me but cannot hear me. Weep they do, tears, tears, tears, stop crying, stop wailing! Your cries pierce my mind, a mind I should not have.
I am a lost soul, condemned to an eternity of bleak nothingness that I did not choose. I was a weak soul and my torn, broken body rots. Never resting. My dead face tacked to that wall.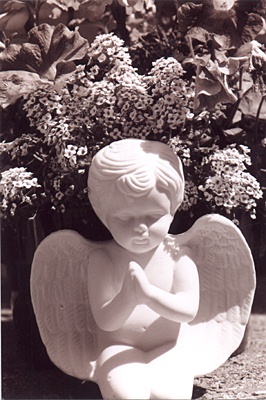 © Laurie T., Hopkinton, MA