Bathroom Shooting
September 8, 2010
I had nothing to do with the bathroom shooting. At least that is what I told the police. It's technically true. I wasn't the one who walked into the girl's bathroom and killed most of them.That was all Sarah. I didn't tell her to do it. I wasn't the one who called her no-good Miller or the one who filled her locker with trash and crap. I wasn't in the least mean to her. I was only the culprit in telling her who did all those things to her.
I didn't know she hated those girls so much! She seemed calm when she asked me,"Do you know who trashed my locker, Annie?"
I did know. I couldn't lie and said I didn't. She was my friend. We had most of our classes together. We would chat for hours on the phone talking about guys. Why wouldn't I tell her?
I told her everything I knew; who the culprits were, who helped them, and who just ignored them. All in one go too. At that time, I felt like a good friend. I never knew I would regret it as much as I do now.
I didn't suspect anything from Sarah when she said she had to tell me something in the bathroom. I thought she had made a plan to get those girls back. I was halfway right.
I was waiting by the paper towels when she walked in. I saw her cried out eyes first. I was going to ask her what the matter was, but she held up a night black gun. She reached up with her opposite hand and turned off the light. I could hear screams as the first shot echoed through the room. My body reacted on its' own. I crouched and felt bullets buzz by my head. I was scared and confused. The only thing that went through my mind was why. Sarah....why?
Something pierced me in the shin. A icy pain shot up my leg. I shifted my body immediately off it. I knew what happened even before I felt the warm liquid run down my leg. I was shot.
"Thats what you get *******," Sarah screamed as her last bullet shot passed me. I saw a crack of light seep into the room. Sarah's face was splattered with red paint. She took one last look at me as she left. She was crying.
I never heard or saw her again. I don't know what happened to her. I wish with all my might I could. No one will tell me anything though. All I can hear is the soft chatter of newscasters. There is only one thing I can make out, bathroom shooting.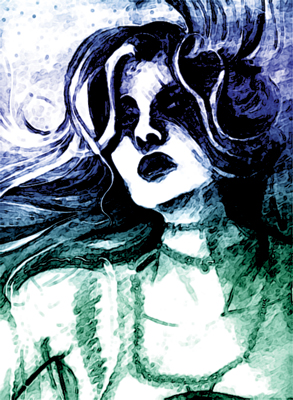 © Sindi J., Westminster, MD