The Flag
August 21, 2010
Fire was flying, and it seemed like the whole world was exploding. My brothers in arms and I ran through the barrage, praying fervently that we would live to see our families again. We charged into the enemy stronghold, desperately searching for cover. The noise was deafening – the sound of destruction and death. The very air smelled of sweat and fear and blood and smoke. My tongue tasted like copper. I was biting it again. All I could see was fire. I was living through Hell.

When the battle was over, I was a changed man. Many of my friends were dead or wounded. Things that were perfect hours earlier were piles of rubble. But it was worth it to see our flag flying high. Victorious.



There are many who would say politicians are a slimy group. I laughed to myself and shook my head, my bifocals sliding down my nose ever so slightly. They sure are, some at least. With their hot-headed debating, their "top issues", and their press coverage. But there are some who are in it for the good of the country. To represent the public and give the people a voice. Like me. I shield my eyes with a wrinkled hand to gaze up at the stars and stripes once more before entering the Senate. God bless America.



I say teary good-byes to my friends, and then climb into the car. My brother and mom and dogs squeeze in as well, shoving our most important belongings aside. The horse trailer is hooked up behind us, causing the car to grunt as we pull out of the driveway for the last time. We wave to our house and our memories as we drive down the road, then we turn the corner and don't look back. We wipe our tears and stare strait ahead, ready to build a new life around a different Air Force base. As we drive away from our home, I see a flag flying in front of a school, and am tempted to salute. Because America makes it all worth the sacrifice. We do it for the flag.



The twenty-one guns ring out, a wife cries after a meeting with a uniformed officer, and a mother hangs a star she had never wanted to see in the window. Tears run down the faces of silent soldiers. The whole town comes to honor the memories. A child will be born without a father. A young man has fallen in Iraq. But as the town watches the American flag be folded, they know he was proud to give his life for his country.


A million sacrifices, big and small. A million tears. A million goodbyes. For the flag.



Teenagers sit around a jacked-up truck at a hunting club in a small town. The winter wind was strong the night before. The flag had caught on the flagpole, and had twisted and torn. It hung, limp and tattered, upside-down from the pole. When asked to fix it, the teenagers refused. They looked at the abused flag and felt nothing.



Red and white stripes, with white stars on a blue square. The same flag in a warzone, over the senate, in front of a school, in the hands of a fallen hero's widow, and tattered in front of a hunting club.

They are all American flags.

They are all supposed to stand for the same thing.

But how can they?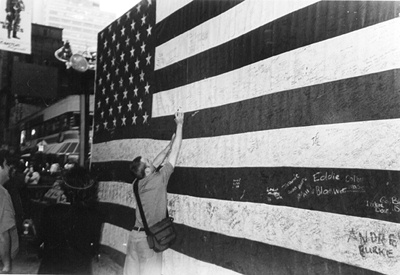 © Kyle M., Marblehead, MA