An Onlooker's Lament
September 1, 2010
He walked onto the plane, a weathered knapsack slung lazily over his shoulder as he scanned the rows for his seat. He had to have been almost six feet tall, completely attired in local garb. Probably in his late thirties, the man had tanned skin that was drawn tight across his face from long hours in the sun. He seemed to resemble the natives from the country he was leaving, both in appearance and behavior, albeit for his striking blue eyes. Those eyes were tired, encircled by deep, dark lines of fatigue.
He stopped in the row next to me, threw his bag in the overhead, and sat down in the seat directly to my right. When he noticed my gaze, he smiled and nodded congenially. I smiled back quickly before looking out the window at the splendorous mountain landscape of the Guatemalan highlands. This would be an easy ride, I told myself. He doesn't seem to be one for conversation.
My attention was redirected to the front of the plane as the sound of a crying baby filled every inch of the confined space. A young woman, looking deathly pale in comparison to the dark arms that were reaching up out of the blanket, took the baby from the man, who I assumed was her husband. The look of absolute bliss on the man's face was undeniable. The woman, whose blond hair was still slightly damp from the light rain that had been falling continuously all day, couldn't have been older than her mid-twenties. Her smile was unwavering, despite the tears of joy that ran silently down her face. I lost sight of the couple when they sat down just a few rows ahead of me.
I found myself peeking at my row-mate out of the corner of my eye. He was staring at his lap, turning something over in his hands with a small smile on his torpid face. From what I could see, it was a faded scrap of material, torn off of a shirt or some other piece of clothing. I couldn't help but wonder what value that scrap of dirty cotton held for the man.
He sighed and pocketed the fabric, wiping his eyes with the palm of his hand. I looked away, embarrassed by his tears.
The pilot spoke in a language I didn't understand. Shortly after that we were soaring high above the clouds, but somehow, the rain kept falling.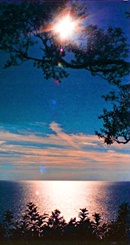 © Crystal B., Gresham, WI