Before
August 22, 2010
Today was yet again the day.
Whispers could be heard in the halls as I walk my lonely road. They are looking upon me with judgmental eyes and hatered. What I have done to them, I don't know.
They jeer and yell at me, calling me names and wishing me dead. I fight the urge to close my eyes and run, I fight the urge to stop walking.
"Going to another guys house again 'eh Ann?" A familiar voice called out. Ivan.
I attempt to ignore him, quickening my pace. I wont be drawn in that easily. Not again.
"Is it going to be your place or his this time?" He calls again to me, and I don't answer. My only responce is another step out of this hell hole.

It seemed to take an eternity, to walk from my class to the front door, out to freedome. It feels like forever. I turn down a familiar wooded path, and let the tears flow. Today was the day when I permitted myself to let it out, to break my unwaivering mask. Endless tears seem to run down my cheeks. The hurt was unbearable, but I held it in until the grave was in sight.

Mary and Jeff Bathson.
Loving mother and father.

Throwing myself onto my knees before the grave, I curl up into a ball, and howl with anguish.

---

I had followed her after she left, waiting a few minutes before leaving. She didn't seem to notice. When the trail we were on led to a cemetary, goose bumps ran down my arms. What was she? A witch? Was she going to raise dead, or start a ritual? I knew she was bad.. but this is a whole new level. Thoughts flow endlessly, looking at every possibility, everyone but the right one, I realized, as soon as she dropped before a grave.
No way...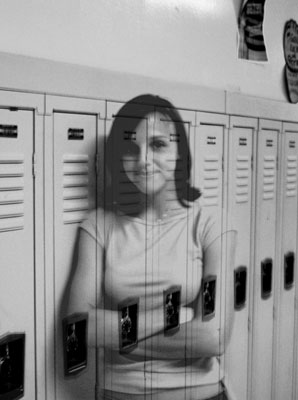 © Amy D., Troy, OH