Double Death
July 16, 2010
As the rain beat down on top of the funeral visitors, my tears matched their falling. The grayness of the clouds cast a gloomy shadow across the cemetery, and my head hung low. My wet hair hang in dark strands over my face and my sobs came out as if they were on the TV screen and were being listened to in surround sound.
It had been 2 months since my mother's passing. She had died in the night, a robber had broken in and she had caught him. My father heard her scream and saw what he had saw. I looked at her dead body for about half a millisecond and whipped my head away.
Thinking of that night tears ran down my cheeks harder. My father wrapped his arms around me and I pulled away and let the rain hit me. My father had an umbrella and so did my older sister. I had refused an umbrella, the black coffin was placed under a pavilion to protect it from the rain. As the coffin was laid in the ground I turned my head.
"Look," My father hissed in my ear. He had married since my mother had dies only 2 months ago. When my mother died he had already been cheating on her, he was planning to have a divorce the next day but she had died that night. He had married his mistress a week after mother's death. I hated him now and couldn't bear him.
I shook my head no but he placed a firm hand on my head and tried to turn it around.
"Stop it!" I screeched, making the guests turn their heads toward me. He let go in shock and I took advantage of the moment. I ran off towards the woods that lay next to the cemetery. I ran into them pushing brush out of my way. I reached a medium height tree and climbed it so I could sit on the top branch.
Tears flooded my eyes and spilt like the worst rainstorm in the history of the world. "Why?! Why did you have to die mom?! Why now?!" I screamed looking up. I felt like jumping of the tree and falling. I felt like taking away all the pain and hurt. I wished I could stop breathing, it would all melt away if I was dead. I could be with my mother in the heavens, all I wanted to do was be with my mom. I had to die, I had to if I wanted to be with my mom.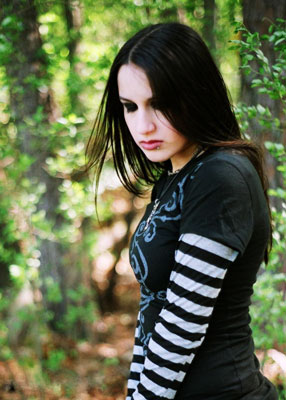 © Rebecca B., Marietta, GA