The White Dress
July 28, 2010
We were in love. And it was my birthday. Mom gave me a body lotion kit I didn't really care for, Dad gave me a small silver picture frame with rose red swirls radiating from it, and do you know what I put in it? A picture of you and me with your gift.
I'll always remember your gift; it was my favorite, absolutely beautiful. I remember the medium sized box wrapped in black wrapping paper with red roses and hearts outlined with silver dots on it. And I'll remember how you handed it to me with a goofy smile pasted on your breath-taking face.
I remember ripping the paper off to hold a black box with silver curly letters scrawled across it, spelling Desire.
And do you remember what was in the box? Maybe not, I mean you broke up with me three days later through a stupid text, why would you? But I do.
When I opened the box my breath caught in my throat, my heart skipped a beat, and my eyes started watering because of the beautiful thing in that box. I set the box on the glass coffee table and pulled out the beautiful white dress.
Everybody else gasped at the beauty of the dress that flowed so extravagantly. It was such a pure white, not one smudge or mark anywhere, not one particle of dirt clung to it. Everybody hurried me up the stairs to my room, telling me to try it on.
And after I slipped it on I looked at my reflection in my floor length mirror; and I loved it. I loved how it clung to my thin body, how it showed all my curves in all the right ways. I loved how its color almost matched the pale color of my skin, and how it contrasted so beautifully with my black shadowed eyes and my long jet black hair. I loved how it looked; strapless and floor length, how the bottom was layers of white chiffon, how it was like a white veil hung around me.
And when I walked down the stairs everybody looked at me in awe, their mouths hanging open. And I laughed at your expression, how memorized you looked as I walked towards you. Then Mom pushed us together; you arm lightly wrapped around my waist, and I was turned towards you, my hand resting on your chest, and Dad took that picture I put in his frame with the camera Katie, my younger sister, had gotten me, though I knew my parents had actually paid for it and put her name on the silly card she picked out.
I remember that we went for a walk that night, and you started humming a slow song, and when I started humming with you, you took my hand and encircled your arm around my waist and we started dancing in the moonlight.
And the worst night of my life came promptly three days after our moonlight dance. I remember reading and re-reading the text and crying for days afterward, and I remember ruining my sheets from my black make-up that streaked my face, but I don't remember what exactly the text said, I only knew what it meant.
It meant there would be no more moonlight dances, or secret picnics under the old willow tree at school, and no more stolen kisses in between classes. It meant you didn't love me anymore. You just turned around and left me, not even bother to look back to see if I was crying or not. I was.
My parents took notice when I stopped eating and stopped talking to people, when I screamed at night because of the nightmare you left me with. But they learned the truth, and instead of being good parents by giving me a hug when I cried and telling me everything was going to be okay, they simply apologized for my loss and gave me space.
So I was left to deal with it myself, except for Katie, who would be awaken by my screams at three in the morning and come knocking on my door, with Ted the Teddy Bear tucked in the crook of her arm, asking why I was so sad.
And as much as I wanted to tell her, she wouldn't understand. So I'd just curl her up in my lap and rock her back to sleep, her tiny hand clutching a chunk of my hair, the whole time I was trying not to let the tears that threatened me to spill over.
At the end of that month, when I sat at the bar where my family was eating breakfast, my parents complained that my screaming was keeping them up at night and they decided we all needed a vacation.
So we all packed for a cruise around the Caribbean. And I was almost done packing; I just needed one more thing. I folded the white dress you had given me and laid it on top of everything, holding back my sobs. That dreadful night you left me I tried to throw it out, to forget you, but I couldn't let go as I held it over the trash can.
We boarded the cruise ship, Katie holding onto my hand tightly; she was always a water-phoebe.
Two nights out at sea, there was a storm; heavy rain and loud thunder.
I was sitting in front of the white vanity that was in my large room, looking at myself self in the mirror, twisting my black hair over my shoulder, and I saw how much I've changed; how much paler I was, and I didn't think that was possible, how there were dark bags under my eyes and how frail and skinny I've become. I remember how full my lips and cheeks used to be, now my lips were thin and chapped, and my cheek had sunken in, showing my cheek bones too much.
I was glancing behind me in the mirror at the white dress that hung on the wall, but I didn't go to it, I couldn't. I was looking at the white dress when the ship shook and the mirror cracked. And even though I should have panicked, at least a little, I didn't; I just sat for a while as screams rose up from the people in the neighboring rooms, watching the white dress fall from the hook on the wall.
That's when I got up and walked over to the porthole. I saw the pitch black water coming closer and closer as the ship hurtled towards it. Everything in the room started sliding towards the wall I was standing at. All my make-up falling off the vanity and rolling towards me, the book shelf crashing to the ground, the books strewn across the floor and sliding to the wall. Everything hit the wall as the ship kept tipping towards the water, bowing under the sea's command, everything except the white dress; the white dress just staying in place, as if caught on something.
And I still didn't panic, I didn't try to get out of the room, I just stood there, watching the wall of the ship collide with sea with an angry rumble.
I was now standing on the wall when the porthole broke under the pressure, the water flooding in quickly, soaking my dirty old slippers and my dark blue night gown.
And as the water rose higher and higher I was becoming happier, like the water took away the pain. And when there was no more room to breathe I went under water, everything drowned out, every sound, every emotion, even the chill of the water; I was oblivious to all of it. All I saw was the white dress flowing as beautiful as if it back on me, back on that day, taking on a life of its own, twirling in the water, dancing like it was me in the rain with you.
And it didn't bring me pain to watch it like it use to, I smiled, sea water pushing its way into my mouth but not into my lungs, not yet. I danced with it; twirling in the below freezing water, and I didn't care. For once, since that day, I was truly happy, I could smile again without it feeling fake, I could breathe again without the weight on my chest, and I could be free from the pain you gave me.
Are you happy? This was happening because of you. If you hadn't of broken my heart I wouldn't have been on this cruise. I wouldn't have been in this water, dancing with the white dress as if it were you. I wouldn't have been free of the pain, because there wouldn't have been any.
But I didn't care about being mad at you then, I was having fun. Soon, though, I ran out of breath, and I tried to breathe in the water. And though there should've been pain, there wasn't any.
Black clouded my vision; it darkened everything except the white dress that danced before me. The white dress stayed as clear and pure as the day I lifted it from its box.
I wanted to keep dancing with the white dress but my eye lids became heavier, and finally they closed, it felt like I was only going to sleep somewhere deep down I knew I was about to die.
And as my heart beat its last beat something brushed against my palm and I smiled, because even though I couldn't see it, I knew, as well as I knew I was dying, it was the white dress.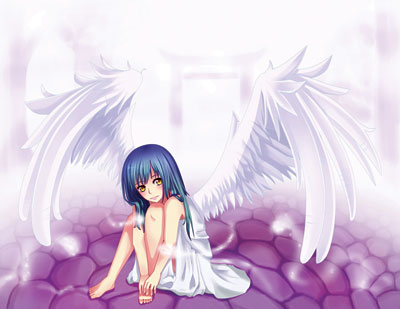 © Amanda L., Albuquerque, NM