Abused.
June 23, 2010
(first and third person)

Kristen and Regan were best friends. A huge twist occurred. On the day off the event Kristen went to a happy place. Her favorite memory dealing with Regan. (Five Years Before...12yrs)
Kristen-Regan! How about we do something different today!!
Regan-Like???
Kristen-Gee I don't know. Maybe a picnic on the beach.
So they went to the beach and watched the sun set. @and talked about anything you could imagine.
But Kristen was jolted back to reality. Her best friend was in danger. Death situation here!! "Regan! Hold on...dont let go I know you can do it!" I said holding on to Regans hand with tears in her eyes. They were both 17...wich didn't matter at the moment. Regan was severely beaten by her boyfriend, Chad Aresuanea. Regan was out later than usuall. So he got mad and beat her. He used a baseball bat and whacked her in the head(cutt her open) and two balck eyes. Then with a metal rod he took out her legs. Regan clung to the floor while he picked her up and threw her across the room at the couch. A result in that two broken legs and ribs. Regan was a beautiful girl. But now she looked like she was suffering. "Your worth to much to lose!!!" I said carefully ruffling her thick dark brown hair. Regan couldn't speak. Something with her vocie box messed up when she hit the metal part of the couch. "Im glad your parents don't have to see you like this. There dead. But my parents are basically you parents." I tried to force a smile. Regan had to have an oxygen tank. It hurt for her to breathe with two broken ribs.
"Theres a chance she might not make it.." The Doctor looked worried himself. I was so sad. But mad that Chad,kind hearted and gentle, would do such a thing. Mabe he was only nice when other people were round...

I decied to leae the hospital while they repaired Regans ribs. I started my car and sped toward Chad's house. I opened the door. Seeing him kicking stuff around. "Who the HELL do you think you are? Going and hurting Regan like that! She was out what an hour later..with ME! I'm not going to do anything to her." I was furious. "You don't understand!" He boomed. "I don't undwestand? Clearly I do! Your the one whos so so..controling. She an have freedom she's only a year away from being an adult! And ur not her father!" I crossed my arms. "An hour later makes a big diffrence.." He ploped on the couch,making it sink to the floor. "She can do whatever she wants. Just because she stayed outan hour later than usual she's really close to dying! Damn you. Damn yourself to hell!" I slammed the door behind me and took off.
I was back at the hospital. Regan looked worse. Her eyes just looked like black holes. Her bright green eyes were black. I began thinking it was her last day. Don't think that! I told myself to be positive.
"She dosent look good at all. Todays her last."The doctor walked away after the stining words. I cried. Broke down in the Hospital. In front of eveyone. Regan was in speical care so I couldn't say my last goodbye.

Later at 5am Regan died. A broken rib fell and stabbed into her heart. That's how she died.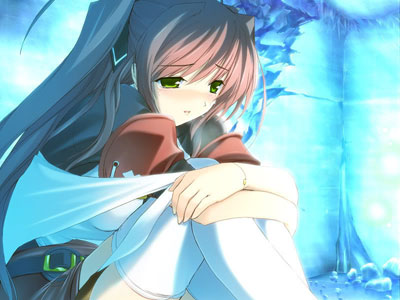 © Courtney M., NJ