Baby Having Babies
June 16, 2010
She held his hand, both quiet as the night around them. The Texas had gotten still. The warm sun had fallen to a cooler night. "You have to call your mom," he said finally breaking the still silence. "She can help us. We need it." She kept her face forward on the road. Sighing after a moment she shook her head. "Baby, she hates me. And she's going to hate me more. I screwed up my life and I was so horrible. I can't."
"Yes you can! She doesn't hate you. She's your mother. And maybe she'll want to hear from you. You have to Hailey. You have to."
Hailey sighed and hung her head lower. Trying not to cry. Jory stopped and turned towards her. He put his fingers under her chin and kissed her forehead. "Trust me." Hailey's eyes swelled. If it wasn't for him, she thought, my life would be empty. "I love you babe." Hailey whispered. "I love you too." Jory replied, leaning down to kiss her.
The next morning they were up at 10 A.M.. Hailey knew what she was doing today. Calling her mother. Forthe first time in 5 months, she was calling her mother. Hailey had run away and told her mother she didn't want anything to do with her. She broke her mom's heart. But her mom never let her know. She didn't talk to her for almost half a year, and now was going to call her. She let out an uneasy breath. The phone shaking in her hands.
Everything she'd been through these last 4 months and this bothered her? This scared her? She was trying to convince herself it wasn't bad. Truth is, it was almost like walking blind into a dark room. You didn't know what was there, what would happen. And you were pretty sure there is something in there, waiting to hurt you.
Jory was in the shower. She needed to make it quick. She wanted to at least have already been on the phone with her mom before he got out. Just in case her mom and her got into a fight. Hailey let out another breath and rolled her neck, dialed the number, and waited.
Ring, ring, ring, ring, "Hello?" it was her little sister, Meagan. "Hey. Is mom there?"
"Yeah."
"Oh. Do you know who this is?"
"Yeah. Hailey."
"Oh.Hah yeah. So can I talk to mom?"
"Hold on." Hailey's heart raced. God, this is so much at one time. "Hello?"
"Hey mom." Her mom laughed and her voice got brighter.
"Hey! Well now do I know you?"
"Yeah it's your daughter." She laughed again. "Well what's up?"
"Nothing, just thought it was time I should call."
Jory got out of the shower only to walk into the room seeing Hailey smile. He hadn't seen her smile in a long while. It made his heart grow. He smiled at her. He brushed his hair and sat down beside her.
Hailey's mom's voice rang over the phone. "So no babies?"
"You mean am I pregnant?"
"Yeah."
"Oh, yeah I'm about 4 months pregnant." Another laugh from Hailey's mom. "Well, looks like my baby's have a baby."
Hailey and her mom talked for a little longer. They made plans to meet at her mom's house tomorrow. Both Hailey and Jory were nervous. But excited. They talked about it all day and told Jory's grandma that Hailey got into touch with her family. "See baby, I told you." Jory said, getting into bed. "Yeah you did." She kissed him and laid on his chest. "I love you." She smiled at him, he smiled back and kissed her. "I love you too." Then he laid her down and picked up her shirt, to show a small buldge where Hailey's stomach was. "And I love you my baby." He gently kissed her stomach.
Hailey looked up, smiled, then laid back on Jory's chest, and prayed for the first time in a long long time.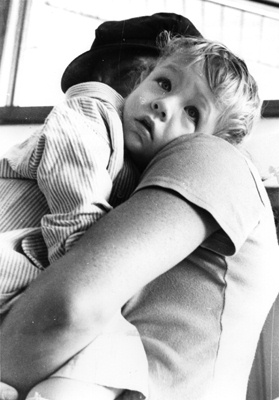 © Ali D., Cincinatti, OH