The Top Of The Ferris Wheel
June 3, 2010
We showed up at valley fair, ready to have an awesome time, when, someone told me,
Joey was back.
"He's what!?" I screamed. Heads turned to look at me.
Michelle shook her head at Hailee. "I told you we shouldn't tell her! I knew she would freak out!"
"Freak out about what?"
The voice came from behind me. And I knew I didn't have to turn around to know it was him.
Joey laughed. "Aren't you gonna answer me?"
I took a deep breath and turned around.
And… almost dropped dead.
He was watching me with his blue eyes.
I couldn't help but grin.
He grinned back. "Did you miss me?"
My cheeks heated up. I looked down at my feet. "Maybe." I mumbled.
I peeked up at him.
He was just…staring at me.
He looked at Hailee. "Can she hang out with me this time?" he asked.
"Sure." everyone said. At the same time.
And before I could protest, he was practically dragging me away.
He stopped for a minute and looked at me.
"I won't make you go on any roller coasters."
I laughed. "How'd you guess that one?"
He grinned. "Your horrified expression when we were passing the wild thing."
"How about we go on the Ferris wheel?" he suggested.
I nodded and we were running again.
When we finally got to the Ferris wheel I saw Joey talk to the control guy for a minute.
"What was that all about?" I said after we sat down.
He shrugged. "Just asked for a favor."

We stopped at the top.

And he was still staring at me, smiling.
"What are you thinking?" I asked. We still hadn't moved from the top.
He leaned towards me only a few centimeters from my face.
"This."
And he kissed me.
When we broke away,
We still hadn't moved from the top of the Ferris Wheel.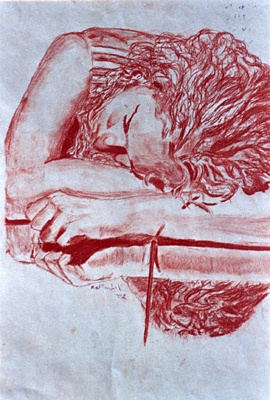 © Mark S., Kannapolis, NC