Blue Hour
May 19, 2010
The embers had fluttered in the smoky air around us, like large fireflies on warm, mid-summer evening. The smoke had ascended to the orangey abyss above, roasting it to a blackened, charred gulf.

The fire had danced across the mirror of his eyes, the sangria streaked blaze blending in with the luminous amber hue of his irises, illuminating like the bonfire's spark. His smile was subtle and kind, it seemed. He looked tanner as his skin absorbed the fire's light, giving him a warm glow.

Beyond him and the scorching bonfire laid the horizon of the Atlantic, waves rolling across the dark water's surface until they crashed to the sandy beach, the waves dwindling into thin sheets until resulting in mere saline foam, coating the shore until its frothy remnants finally ebbed back. The scene had been like a brilliantly painted canvas.

I had just sat there, watching him, staring at his twinkling eyes as he held up the silver Canon Powershot and a flash burst through the beach. It was a moment worth remembering.

The scents, the sounds, the sensations, the whole entire essence of the day washes over my mind. The pain I feel so deeply embedded into my brain quickly is scrubbed down until clean and bare. The despair I possess slips away, sliding out of my ears as the ringing, the voices, the everything shrill and nostalgic that howls in my mind, draining my mentality, becomes mute.

For a moment, one fleeting moment of comfort and reminiscence, I feel happy. The recollection of that day could only ease my sadness for so long though. The pain and despair resurface onto the outside of my brain. The evanescent cheerfulness I hadn't felt in days except for this one fraction of a second burrows unfathomably deep somewhere, like a treasure where no map could lead. I trace the lines across my palms as if they were paths on a map to find that buried hope and happiness now as I cry during blue hour.

I wither away to my bedroom floor like a wilting flower. The full-sized mirror stands across from me, towering over like looming thunderclouds. The picture he took is taped onto the glass. The silhouette the mirror reflects is a girl. Her hair is white blonde, a few shades blonder than the moon, and it hangs above her shoulders, just long enough for the cascade of pale strands to brush them. She looks reasonably tan. Abercrombie & Fitch drip down from her body, from head to her ballet flat-covered toes.


Despite it, whoever she was, the girl looks empty, like a flowerless vase, a vessel without a crew, a nest without a bird. Little warmth hovers from her. She appears to be bleak, like the gray expanse surrounding her. Bitter tones outline her body and eyes.

Her eyes are hard, cold, and aloof, with a rivulet of tears rushing down her hard skin until they fall to the floor, like a plunging waterfall. Still, no matter how much ache or sorrow or Abercrombie or Hollister orbits around this girl, I still recognize her. Not so much her, but the eyes. Beneath the heartache is a girl I once knew. The cobalt irises were common in the world, but they sing something other than just a soundtrack of segueing
distress and misery and gloom.


Inside her pupils is a girl. This girl I speak of has rich, long auburn hair and flesh fairer than any other girl in the land of Nantucket. She wears not Abercrombie & Finch but Gap and Old Navy. The girl I speak of is named Tamara Ward, or Tammy as she prefers. The girl I speak of is me.


Still, I am trapped in the body of another girl. This girl, with her silky blonde hair and tan skin, was attractive and sexy, perfect for him. Girls envied her. Guys ogled her. Total strangers stopped to stare at her. The girl shopped at places like Abercrombie and American Eagle Outfitters. She always wondered if she wasn't nearly "tan enough." This girl frequently controlled her weight. This girl did everything humanely possible for her boyfriend–– for him. This girl is named Tamara Ward. She hates it when people call her Tammy.


I, Tammy, have zero propinquity with him. Tamara had a relationship with him, but could it really be a close one if Tamara wasn't even real? That it was me wearing a pretty bag over my head to hide whatever I was so ashamed of just to impress him.
I was under his thrall, wearing a mask, afraid for him to see me, so I dated him in a masquerade. I tried to be perfect, all for him, and he still found someone else he preferred. Her name is Gracie, and she is a natural blonde who doesn't care what he thinks of her. I envied Gracie, and at the same time, I didn't.

Consumed, that is what I was. Ensnared in some bubble. He seemed so perfect. He still does. Yet, I feel empty. Not because I was abandoned. Not because he isn't in my life anymore. I felt hollow because of how little there was left of me. This is why I envy Gracie.

He made me this way. I wanted to be his only. I wanted to be the other half to his soul. I wanted to be the beat to his heart. But he didn't. He never wanted me. He only wanted the girl I created simply for him, and even her he didn't want very much. He made me hate Tamara. He made me hate myself. This is why I didn't envy Gracie.
The door to my bathroom is open a tad, like a crack. As light spills in to my dim, dreary room though, I wonder if I'm the one in the crevice, trapped and sorrowful in the shadows, while the outside world continues to thrive, lit up with sunshine and energy.

I sigh at the very possible thought. Something is caught in the corner of my eye. It sits on the bathroom counter that is filmed over with diminutive puddles of tap water and globs of runaway strawberry toothpaste. A woman with a laser white smile beams, beautiful white blonde hair blowing in imaginary wind. The box was ajar and vacant inside.
The faux blonde strands I now possess fall in my face. It was like a sign.

Temporary strength of some sort builds inside my body, enough to lift my body off the carpet. Hidden away in the bathroom lies the beaming woman on the empty box. It's my goal.

Unhurriedly, my legs trudge to the partly open door. Light pours over my body as I enter. I squint and cringe as if it is liquid fire that is penetrating me, burning and consuming me until there is nothing left but my ashes. Still, even my ashes would be soaked in the burning liquid.
My hands lightly stroke the box, skim it more specifically. I few dry splotches of hair dye mottle the container, a yellowy-white color, almost the hue of that of the inside of a ripe peach. The waterlessness of the stains reminds me how long it has been since I became "Tamara," who ever "Tamara" was.

Scanning the corners and sides of the container, I find what I am looking for. A gallery of faces, caked with make up and pure beauty, they stare at me with perfect white grins. All of their hair is different though. Different colors, different shades.
Pure black, chocolate brown, light chestnut, golden blonde, sunny blonde, lipstick red, and finally, rich auburn, the color I desire, the color of my familiarity, the color of Tammy, the color of me.
After I dispose of Tamara's spray-on tans, I'll ask my mother to go to CVS tomorrow to search for me, Tammy Ward, with the auburn hair and fair skin and Old Navy Clad body. I could really use her right now.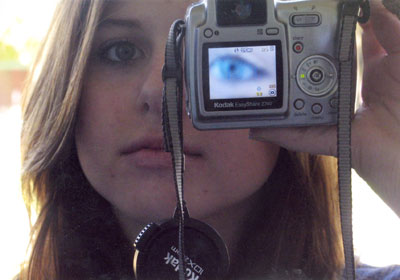 © Jessica M., Phoenix, AZ