Delilah
May 9, 2010
Delilah and Riley are sitting in Delilah's room. Riley is on her bed, Delilah at her desk. Neither one of them are looking at each other. Riley looks over at her, Delilah notices but doesn't make eye contact. Instead she says

Delilah
You don't get it.

Riley
I get it.

Delilah now looks over at him, angry, stern expression on her face

Delilah
No, you don't. Your girlfriend isn't dead.

Pause Riley sighs

Riley
Can I ask you something?

Stretches out her arms, uses a cool voice
Delilah
You can ask me anything you want.

Riley
Why are you so angry?

Delilah gets up, offended. Riley gets up, follows after her.

It's just you've been angry for months and months.

Delilah turns to him
Delilah
Of course I'm angry. Riley, I got one year. One year, that's it. When I see happy couples on the street, when I see old couples on the street, they got forty years. Forty years. Compared to my one? What makes them so special that they got more time?

That's why I'm angry, because I don't get to be with him anymore. I don't get to be with the one I love for the rest of my life like they do.

Riley
We all lose the ones we love, Delilah.

Delilah
Oh shut up. Don't give me that crap. I've heard everything and nothing brings him back.

Delilah turns away

Riley
Anger doesn't bring him back.

Delilah stops, turns to him
Delilah
Picture this….you love Jenna, right?

Riley
Very much.

Delilah
Then picture this: You're happy. You're in love. You're on top of the world, because you get to be with her, see her everyday, all the time. And you're imagining the rest of your life with her.

Then one night, you get a phone call…and there is no more you and Jenna. There is no more Jenna. She's gone. Forever. And so is the rest of your life. Now tell me, why are you so angry.

Riley sighs, looks down
Riley
I just asked a question.

Delilah replies with a feisty tone
Delilah
And you got yourself a subtle answer.

You wanna understand something? How can people say it was God's will? God did it for a reason. What reason? What reason would a god have to take away the one person I love most in this world? I hope he has a reason. I hope that being up in the skies has a reason. Because why would people say God loves ya and then let me live in misery?

Riley trying again to comfort her
Riley
For compassion.

Delilah
Compassion? So people can have compassion for me? Well, tell me what compassion is there, when I look at people and their eyes say "How can she be so upset? It's been six months. Why hasn't she moved on yet?" You know what, when their husbands or boyfriends or loved ones die too, should they be only allowed to grieve for six months? Six months of grieving? It's an eternity when you lose someone.


Riley again looks down

Riley
You're just not you anymore.

Delilah
I'll never be me again. That part of me that was alive, died when he did.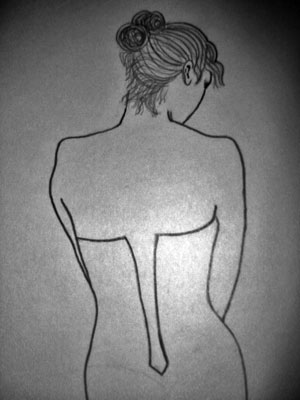 © Jennifer B., Larchmont, NY