Escape
March 26, 2010
"I hate you!" They never let me do anything. I didn't do anything wrong! Why am I being punished? I run out the back door, pretending they won't come after me and ground me for even longer. The wind is practically blowing me over, but I don't pay attention to it.

Behind our house has got to be the best place in the world. There are approximately two acres of grassland stretching out onto a bluff overlooking Hollywood. It's our own little paradise right in the middle of one of the busiest places in the world. I plan to escape to the city. The lights beckon me with a promise of pleasure. I don't want to resist.

A few years ago, my best friend and I hung a rope from the stake in the ground and let it fall to the city below. I planned to use that as my escape route.

I am out of breath by the time I near the bluff. I decide to sit down for a moment and rest. Before I know it, a fire is rolling toward me at the speed of sound. I sprint to the bluff imagining I can climb down it before the fire reaches me.

Too soon though, and the fire is upon me.

I keep pretending.

The heat is growing closer; it's passion dissolving everything around it. Brilliant reds, oranges, and even greens surround me. Slowly inclosing me, choking me with its desire.

But I pretend its blue. Cool and calm- peaceful. I choose to imagine the dark, billowing clouds of smoke to be light, airy clouds where I could sleep all day. I might get to anyway.

The grassy field around me is charred. Forever turned the black color that everyone has discriminated against since the dawn of time. There is only one tree next to me on this bluff. The leaves are turning in on themselves, like a flower for the night. This night will be longer than most.

My lungs must be as black as a chain smoker's by now, but I am pretending it is only the fresh smell of spring filling my chest with a lovely, rich fragrance. My fantasies are being cut off by a sudden cough attack.

The silk of heat is nearing my skin, all too close now. I must escape. Ahead of me is a pure bed of clouds. They promise me comfort and leisure. I will go. I take a step of the bluff and float. The cloud supports me and I pretend this pain is over. But the fire follows me. It burns my skin. Choking me. I falter, and trip over the only thing still capable of holding me- a rock. Lying on the ground, a useless heap of burned flesh, the fire engulfs me. I guess this is what I get for running away from my troubles. Like being grounded for two weeks is that bad anyway.

I won't pretend I can escape the fire anymore. It already has taken control. The flame is past my flesh now and charring my bone. I guess I should say goodbye now. I'm sorry mom. I don't hate you- you can't believe that. I'm sorry. I wish, I wish… but not even knowing this outcome would've stopped me from running.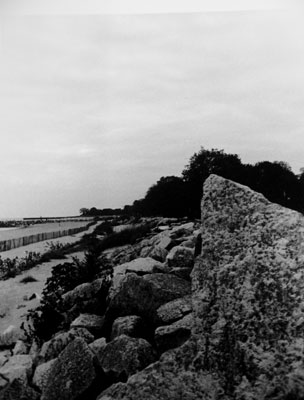 © Sean M., Apple Valley, MN