Running
March 25, 2010
Running.
That's all I do for my entire life. Run. From adults, from the police, from everyone. Cause I'm a lone wolf.

If my sneakers get worn, steal some more. My food supply gets eaten, take some from a field or get some from a house in an open window. Blankets get ripped, sleep under the warm hay in a barn. I've never lived a day without seeing the sun come up and go back down. My whole life is on the road. Running miles and miles a day. Sneakers on dirt roads, smooth pavement, or gravel; my feet are always moving.

School? School's for wimps. I have my own school. It's called street school. You learn what you do from past experiences. Most of it is, don't talk to cops. Don't get caught when you steal. Run on country roads. In a fight, punch, win, and get out of there. Act as if you live a normal life and go to school and sleep in a bed and have parents. So far I'm the only student enrolled in street school. The only one strong enough to live by my own rules.

Sometimes it gets tricky in the winter though. When it snows especially. So I move to the south like a runaway bird. In the south, fruits grow on every tree and my stomach is full all the time. But, when I migrate too late, I get shelter from old, deserted houses and barns. Then I move when the winter storms have gone by.

Churches are exciting for me occasionally. I always run in place in the way back because I can never stop moving. But, there's always this guy named Jesus and he's the son of this almighty being named God. And Jesus goes on all these adventures to love people and save them from evil kings and demons. In the end though, Jesus got killed by one of his friends. It made me sad but then the story-teller said that although Jesus had died, he would live forever in Heaven with his father. Usually the church service was really long and boring and I would have to leave before it was over because of my urge to run outside. But once in a while I would hear a good story-teller. Once, when I went up to one of them after the service, he gave me the book he had been preaching out of. He said it was a bible and that I should take good care of it. I keep it in my backpack with everything else, protected in the ragged blanket my parents gave me when I was little before I started running. I also read some of the bible stories every night since I learned to read when I was a kid.

And something even better then good story-tellers and adventures with Jesus, is finding a grassy hill to lie on as the sun goes down and the moon rises along with the diamonds of the night. The sunset reminds me of the beauty I live with. Of the world I run in. And I remember that I wouldn't want to switch an everlasting running life to a busy working life ever. Because I've seen what the modern world can do to people. I've seen how they go to bed with bloodshot eyes and a soul that is never free. Well mine is free. And will be forever including when I die. I'll go to a heaven and meet Jesus and all the other people in the bible. I'll be in a place where only plants and animals roam and I'll run with the wind, with the sun, and with the world of beauty.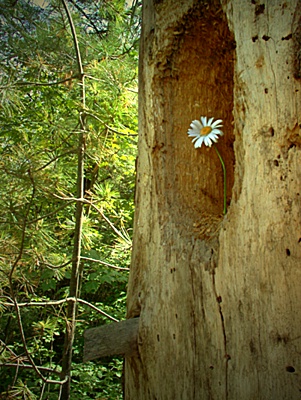 © Anna R, Sudbury, ON, Canada