Seek Me
March 23, 2010
At night, a closet can envelope you in a black abyss. You take your familiar place at the very back, where you draw your knees to your chest; after gently shutting the door. As you level your breathing till it's thin and undetectable, you feel a pressure as though the walls were encroaching on your deepest thoughts. You extend your hands in front of your face, but see nothing. You slowly wave them around to discover it seems endless in your personal midnight reprieve.

Gently your eyelashes caress your skin, which reminds you that your eyes are closed, but the darkness remains unchanging as if they were open. Your senses have become misleading and useless. An invisible weight descends and clings to your figure. Time escapes from this enchanting state. Still, it's too much to handle.

Breathing was almost nonexistent, but now makes itself known, for your brain tingles with a peaceful numbing sensation as your frantic eyes search for shapes and light in the dark. You are eager now to be found; saved.

Then suddenly, it seems as though before you, your desires, sins and accomplishments are spelled out before you in the air. They are blindingly obvious, and all you can do is let the truth of them flood your mind. They burn bright like a white fire that singes and transforms your spirit. All burdens break free in a mist and your whole body becomes weightless as if you were part of the air you breathe.

The world is gone. All emotions are extracted, and you're not sure exactly what it is that you feel. Your thoughts turn to prayer, and that's all that matters. You whisper to an invisible friend, and it feels so good; like washing away the pressure.

When at last you are overcome with a sense of wholeness and purity, you feel your way to the wall and trace its familiar edges to the door. From it, you emerge renewed and serene.

Hide and seek has reached an all time high and has new meaning. It is far from a game now. It's your life. It is when you hide from the evils of mankind and seek guidance from the Lord. Luckily for us, He will always find us; all we have to do is seek Him.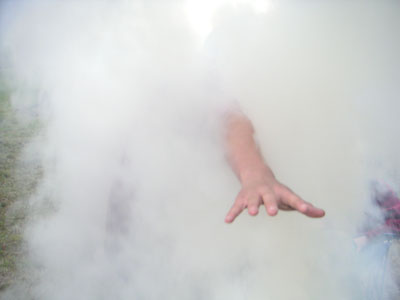 © Garrett M., Port Angeles, WA