Magnetic Attraction
February 21, 2010
If I had learned anything in my thirteen years here, be it through mistakes or the rare thing I had done right, it was about change. Things change, people change, the weather changes. Even our Earth, thought to be the most stable, constant body in existence, changes more often than a teenage girl going on her first date. So I knew that our relationship was due for a change. We had been too comfortable with each other for too long. It was an obligation of fate to throw a wrench into things.

He had been there for as long as I could remember, and most likely even longer than that. His presence wasn't what changed, rather how much I depended on it. I first noticed the change on a camping trip. Whereas it used to seem like we were just another boy and girl, each subtly annoying the other, but putting up with it for the sake of those around us, something changed then. I had always pushed him out of my life before, not wanting to deal with more testosterone with two brothers in the house already. But at that time, it was like the magnet inside me flipped. Instead of two identical magnets repelling each other, there were now two opposites. Something inside me just wanted him in my life.

He felt it, too. I knew that he had to. There was no other reason it would feel so completely natural for us to lay side by side in total silence. He had to feel it. Never before had we been able to laugh as we fought over the same chair, ending with me leaning up against him, on his lap. Everyone around us must have felt it, too. We got no questioning glances, no furtive whispering. They seemed to accept it just as easily as we had; with no second thoughts.

The magnets we had in us seemed to grow stronger and stronger with every hour, every touch we shared. The last, final pull they gave brought us together as more than just best friends. I didn't know what to expect when he stayed to watch a sappy movie with us. The first time I saw it, it had made me cry. I wasn't sure why, but my heart leapt when his fingertips lingered on mine. They stayed there until they traced my palm and wove between my fingers. They stayed there as my head found his shoulder. Stayed there for the whole movie.

But after that it was as if the magnet was starting to turn again. Starting to turn in such a way that we would reject the idea of ever being close. He wouldn't talk to me, couldn't look at me. To be honest, I think he had a hard time being in the same room as me. When he finally spoke, the meaning couldn't have been more clear. The magnet had flipped. But there was something inside me that was more than the magnet. Something that still wanted him as that part of my life. His attraction, though, was solely magnetic.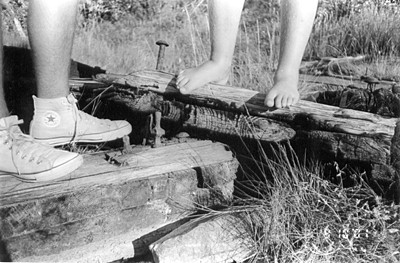 © Sarah R., Marblehead, MA