If Only...
February 28, 2010
He caught the little girl's hand as she swung at him. Tears were evident on her chubby, childish face. Her angry scowl was so adorable it made him smile a smile he hadn't in months. He reached down and grabbed the child by her waist and swung her onto his hip. He kissed her forehead and she whimpered. Her mouth trembled as her eyes filled with tears. He wiped away the one tear that fell and set her gently on the ground.

"Come on sweet heart, it's okay, she'll be home soon." The five year old studied her twenty one year old father silently.

"Okay daddy," she whispered as she ran quickly ahead of him. They walked together through the streets as a light spring breeze swirled around them.

"River!" the man called gently. "Let's put your jacket on!" The strong-willed child turned her head slowly at her father's voice.

"But I'm not cold," she pouted. She was ready to play on the playground. That's all she wanted to do.

"River, please. I don't want you getting sick." His voice rose above the wind that began howling, but still remained kind and gentle.

"Alright daddy." River turned and ran back toward her father, passing an old alley. She hadn't noticed it before, but now that she did, she wanted to explore it. She looked over at her daddy who had begun to talk to someone, before slipping unnoticed into the narrow alley way. River had only wandered a few yards in, when she heard a familiar laugh. It wasn't far ahead of her, a few feet, behind the big dumpster. She ran quickly toward it and stopped suddenly. Her eyes grew wide when she saw a woman and a man with needles in their arms. The woman didn't look up, but the man noticed the child right away.

"Rachel," he whispered nudging her arm. "Rachel!" The woman looked up this time and her smile grew wide.

"Hey baby! You found your mama! Come here!" River didn't move. She was scared. There were bruises all over the woman's face and her clothes were ripped and torn, hanging off of her thin frame.

River slowly began to back away as she heard her daddy call her name. She cried out, calling for her father as the woman pulled the dirty needle out of her arm. She heard her daddy's loud footsteps, but River just stared silently at the woman in front of her. She wasn't her mother. This woman couldn't have been her mother. Her mother had long beautiful white-blond hair and pale skin. Her eyes were a gorgeous sky blue and her lips a brilliant red. She always had just the right amount of make-up on that made her look magnificent. And she was always smiling a loving smile.

The woman in front of her had gross brownish hair that was hanging limply over her shoulders. Her blue eyes were dark and unseeing. Her lips were pale and her skin full of dirt and bruises and little marks. There was no make-up on her face and there wasn't a trace of love in the unfamiliar smile. It couldn't have been her mother.

"River what are you...?" the man's voice trailed off when he saw his young wife. "Rachel? What the hell are you doing?" Rachel glanced up and barely took note of her husband, she hadn't seen him since she'd taken off months earlier.

"Oh shut up William," she slurred as she picked herself up off of the filthy ground. She had the sudden urge to hug her daughter. "River dear, come give mommy a hug," she begged as she stumbled forward. The child stepped back.

"You're not my mommy," she whispered harshly and raced from the alley, leaving Rachel and her husband staring after her.

"Goodbye Rachel," William whispered chasing after his little girl. They were words he had never wanted to utter to her. He never wanted to turn his back on the love of his life, but the young teenager he'd fallen in love with no longer existed. A monster had taken her place.

He turned and followed his daughter, leaving his wife crying. She was on her knees now, begging to go back in time. Before she'd left. She wouldn't have left. She cried into her palms. She would get clean, she would never have to see that look on her daughter's face ever again.

"William wait!" she called desperately, ignoring her dealer. "I love you!" She ran through the alley, stumbling and falling a few times. She would get her family back! She didn't look where she was going she just ran.

Rachel ran into the road just as a cop sped down the street, she didn't hear the sirens, she only had one thing on her mind. To get to her daughter. But she would never have the chance. She didn't see the car, and the car didn't see her.

As the woman lay dying, she heard a sweet little voice far in the back of her head, the angelic voice of her daughter, but it was just a faint memory. She rolled her eyes up to stare at the heavy man who'd jumped out of his car. She didn't hear what he was saying to her. She just looked around, trying to see her little girl.

"Tell my River and my Will I love them," she whispered as she closed her eyes. If only she could go back in time. If only she hadn't left them. If only she could tell Will she loved him one more time. If only she could tell River herself. If only River hadn't seen her this way. If only...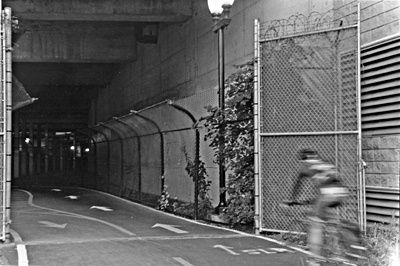 © Claire E., Bethesda, MD