ripple
February 27, 2010
I stood there on the bridge, staring down into the water. The smooth dark surface looked like a mirror, reflecting ever miserable event that happened that day. That day when Jace died. I remembered the small article in the newspaper: this morning a car flipped off the bridge over Cardinal River, the driver's body was found half a mile down the river. Unfortunately the 19 year old boy, identified as Jace Trescott, was declared dead hours before help reached him.

I tried to swallow the growing lump in my throat as I pictured Jace's face, broken and bruised. All of these things are still locked in my memory but the thing I remember most, the one thing that stays so clear in my mind, is seeing Jace's body. It was so still. So cold. I tried to talk to him, to hold his hand but it was like the light went out. And that's when I knew. Jace, my Jace was gone.

Pulling my jacket tighter around my body I continued to stare down into the river. Tears rolled down my cheek and rested softly on my lips. I think back to that night before the accident, (was it really only a month ago?) we were walking in the park because it was such a beautiful night, full moon and all. We sat down on a bench and a few minutes later he got down on one knee and pulled out a ring. That night I felt more alive than I ever did before. Jace and I were that kind of couple that when we met each other we knew right away we were going to be together. Forever. But forever came too soon.

I reached into my pocket and pulled out a small folded piece of paper. It was a letter I wrote to Jace. I knew that if he was watching me right now he wouldn't be happy. He'd want me to move on already, to start a new life, one without him. The only problem was, to me there was no life without him. No where to go, and no one to go to. I kissed the folded piece of paper then let it slip through my fingers and fall silently into the water. When it hit, the paper made a ring of ripples. I watched as the ripple grew bigger and bigger then all of a sudden it just disappeared.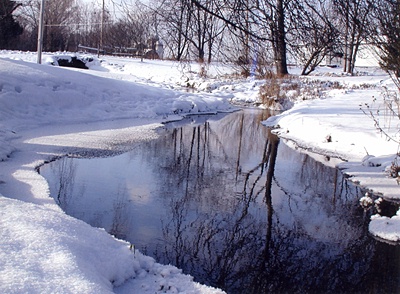 © Alex B., Rome, NY