A Better Place
February 23, 2010
This girl, Melinda was her name, walked through the halls as people yelled, laughed and pushed. She hated the crowds and tried to shuffle through everyone as fast as possible. A paper airplane buzzed past her head and she turned to see who threw it, but instead ran into the janitor.
Finally, she wasn't invisible anymore, but people were laughing at her or giving her dirty looks. She heard named being called; 'looser', 'freak', 'hophead'. A few people yelled at her to watch where she was going. Her face got hot, and so did her ears, but since everyone was paying attention to her, they moved out of her way. Once she got outside, she checked the time and realized she was going to be late getting home.
Her mom was expecting her to fix a fancy dinner for her boss who was coming over for dinner. She said he was Italian, so Melinda decided on pasta.
Ignoring her mothers screams as she ran through the door and started gathering ingredients. She didn't look at the clock until the water started boiling. She nervously glanced up; 6:23. She saw it for just a second, and then started to work faster. He moms boss would be here in about half an hour, which didn't give her much time.
"Mom, you'll have to stall him when he gets here," Melinda was almost scared to say it but her mom needed to know it wouldn't be ready in time.

"What am I supposed to do, huh?"
"I don't know, maybe you shoulda though of that on your way home from work when you didn't pick me up. You know I get home late if I have to walk."
"How dare you?" he mother slapped her and she winced, but kept working because she was used to it.
About an hour later Melinda gathered plates and set the table while she let the pasta drain. Her mother walked in glancing at her check, but instead of apologizing she quickly asked her, "You finally finished with dinner, you half-wit?"
"I was about to serve," she tried not to talk back, it resulted in bad things, her check was bruised, she could already tell, she didn't even have to look because she could feel it.
When she brought the dish out and served it to her mother's boss, he commented on it. "Wonderful ziti, did you make the pasta yourself?"
"The smooth noodles, yes, but I hadn't made enough, so I bought the rigid ones."
"I love the sauce as well, is everything homemade?"
"As much as I had time for," she accidentally turned toward him and he saw her cheek.
"What happened?"
Her mom cut in before she could spat out a lame excuse, "She's a bit of a trouble maker at school, I've been working on her for a few years now, but she hasn't learned too much."
"Well, that's too bad; she could have had a wonderful future as a cook. Too bad she's wasting her time fighting."
"Melinda, go to your room please, I'll take it from here."
Melinda ran up the stairs and started to draw. Her dream was to go into the corsetry business. After a while she got tired and went into the bathroom to wash her face and brush her teeth, but then she noticed the bruise, she started to put cover-up on, to see if she could hide it at school without using her hair.
"What are you doing?" her mom snuck up behind her.
"I was about to go to the store and get more food for the kitchen."
"Make it fast, my list is on the fridge." She mumbled something else but Melinda couldn't make the whole thing out. She heard a few words though; needs, plenished, and a couple cuss words, then her mom handed her some money.
Melinda loved to shop because it gave her time alone, away form school, and her mother especially. She had no problems until she came to the shredded cheese, he mom wanted sharp cheddar, but there wasn't any. There wasn't any mild cheddar either. She decided to pass it, her mom would be furious if she got any other kind.
"Mom, there wasn't any sharp cheddar."
"Did you ask someone if they had any in stock?"
"Yes, there wasn't even any mild."
"Oh well, what kind did you get then?"
"I didn't get any, I thought id see if they had any at the store tomorrow on my way form school."

"How convenient, I need it in the morning. Can't you do anything right, you ungrateful bum!"
She grabbed Melinda by the arm and shook her, then swung her into the counter and slapped her bruised cheek again. She stormed out with her keys and knocked over the trashcan.
Melinda crawled over to it and started picking things up, then something shiny caught her eye, it was the lid form one of the cans of tomato sauce she used for the ziti.

Pictures and phrases ran through her mind; addiction to self h arm, stress relief, isolation. Pictures of scabs, blood, band-aids, scratches, blood-soaked towels, wrist warmers, arm warmers, long-sleeved shirts, and jackets in summer.
She looked at her wrist and realized how fragile it was, how scissile, she put the lid to her wrist now, but before she made the incision, she dropped it, and ran up to her room.
She took everything and started shoving it into bags, any she could find. When her mom got home she was yelling for her, "Did you fall asleep? I'm talking to you, get down here!"
She broke down Melinda's door and saw the window open, and her daughter lying on the ground, surrounded by suitcases, covered in a pool of blood, part of her jacket and jeans were stuck on the fire escape, she had to have slipped and fell.
The mom walked back inside, in shock, and went to the bathroom. She took a bottle of pills and went to the kitchen. She swallowed the pills with a bottle of jack.
The next day, the phone rang for her mother, it was the school. Melinda wasn't there, but no one answered. The cops already new, since someone had called 9-1-1, they found her body. Her body was being zipped up in a body bag, and the police knocked on her door.
"Ma'am, this is the police, we'd like to ask you a few questions, can you open the door?"
Bang, bang!
"Ma'am?"
The door broke down and the men scanned the house carefully, their guns in front of them, so alert. Until they got to the kitchen and found her dead body.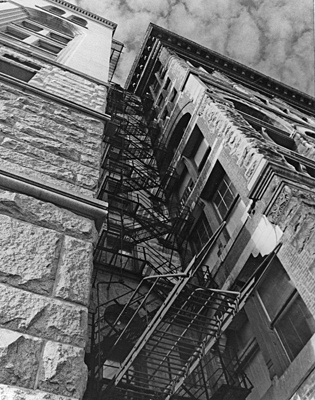 © Eric H., Lafayette, IN