The Revision of A Cry in the Dark
December 17, 2009
As young children my siblings and I got removed, by the state, from our biological mom. Being removed from everything I knew was definitely not easy. Though it was the only thing I knew, so I guess I was a bit oblivious.

It was an ordinary Friday night, well that is until they came for us. We were all sitting down at the table. Everyone was there, my mom my three younger brothers, two of whom were still in high chairs, and my younger sister who had the luck of being the middle child. We had just begun to eat dinner. We had ordered pizza from the nearby Italian restaurant, which happened to be one of our family favorites. My mouth still waters when I think of it's perfect cheese and thin thin crust. My mom, knowing my love for peas and corn, gracefully poured a spoonful of delicious steamy color onto my plate, with just one delicate twist of the wrist. I swallowed the bit of pizza that currently occupied my mouth and had just begun to open it up for a bite of peas and corn when they barged in.

They were big men, wearing uniforms, men who had official business. They were the police. I wasn't scared, though one may say I ought to be. I was only seven at the time, I guess I didn't quite know what I was in for. The men were nice to me, giving me no reason to be afraid. They told me to grab a few of my favorite things, so I did. I kept asking them, "do I need this", "do I need that", and most of the time they said that they would get me new ones at the place I was going, so I accepted that.

Then a cop was leading me and my siblings to an unfamiliar van that was parked outside in the driveway. I noticed a man waiting impatiently in the driver's seat. I saw my mom, crying in the doorway, trying to stop what was happening. It distressed me to see her in such a state of despair. I overheard the police telling her, or rather yelling, that they would arrest her if she did anything. I didn't quite know what to make of the situation. I knew that there must have been something going wrong because my mom was standing there so hysterical. My little brother was also crying. He was sobbing, "mommy bye bye van, bye bye van". He was just learning how to talk then and these were a few of the words he knew how to say. He liked going for rides in the car and would normally sing this out in happy little baby talk that only the people who saw him every day could understand. I was trying to comfort him but my attempts really didn't make a difference. He just wouldn't stop crying.

By now we had all been buckled into our assigned sets, I guess the cops didn't think we were capable of doing this ourselves. The mysterious van, via the driver, was descending down the driveway leaving my mom on the doorstep in a puddle of tears. I was turned around in my seat watching my mom and the few cops that stayed behind as they grew smaller and smaller then vanished into the dark blanket of the night. My brother was still crying so I turned back around and made another attempt to calm him, but yet again I failed. I didn't like when my brother was unhappy but by then I'd learned that you can't always get a baby to stop crying. So I decided to let him cry for a bit, and asked the driver where we were going. He said he was taking us somewhere safe. I didn't really know where that was so I looked at the oldest of my younger brothers and asked him if he knew. "Maybe MacDonald's", he whispered back, with this tone of uncertainty that I have yet to hear again.

The next couple of minutes I spent looking out the window and trying to block out the sobs from the row of seats in front of me. I recognized the blurred scenery that was illuminated by the yellow orange glow from the street lights above. Now we turn here. The van took a right onto the ramp I had just indicated. I had been this way many times before. This was how we got to my cousin's house. At that moment I jumped to the sound of my brother's voice. He was asking the driver if we were going to Daniel's house, Daniel being our cousin. The driver replied with a pitch of satisfaction in his voice, "no".

I guess I should have been crying like my baby brother was. But for some reason I wasn't. It was just an adventure for me. An adventure that would no doubt, change my life forever. For the next couple of months I would tell myself I was just dreaming. I had seen on a couple of different TV shows that if you can feel pain then it can't be a dream. So now and then I would pinch myself, trying to get myself to wake up, but I never did. Then, after a few months . . . or was it years, well whatever it was after a while I let that small flame of hope extinguish. The whole time there was a part of me that knew it was for real, but that didn't stop me from hoping it wasn't.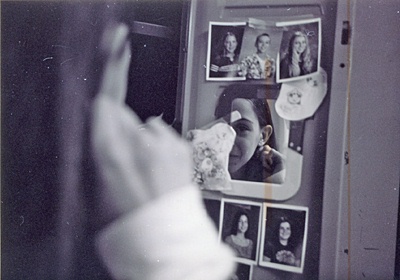 © Kaleigh W., Pompton Plains, NJ