The Writer
December 9, 2009
With so few things to occupy her ever-wandering mind, she sat down to write. Her half-empty ink pen moved across the blank paper, filling the desolate lines with her many ideas. Papers similar to this, half-finished stories, broken poems, journal entries, and random memories, scattered the floor of her bedroom. The words flowed from her pen in short, spastic movements, her handwriting small and scratchy, but her ideas nonetheless clear.

Why did she write? No one, not even she, quite knew the answer. Maybe it was to occupy her time, or maybe it was to make some extra money if her stories were published.

Or maybe it was for a deeper reason.

You see, she was in love. He was her everything—all she thought about, all she dreamed about, and all she wanted.

But they couldn't see each other, and hadn't for a while. Maybe that's why she wrote. Her written words were her tears, and her paper was the tissues.

So she wrote. She wrote for hours on end. She wrote about every possible thing she could imagine. Her words flowed eloquently, her stories pleasurable to read. However, these writings were not for the outside world's eyes. They were for her and her alone.

One day, her room was found empty. The black and white sea of papers and stories that once flooded her room was gone. The jars and boxes of pens and pencils that stood in stacks upon her desk had vanished. All that was left of her writing shrine was a lonely desk and a mattress stripped of its covers.

The girl was elsewhere. She sat in a blue-green Mustang going seventy down the interstate. He sat in the driver's seat, her love, headed toward new places, away from their small hometown. They could finally be together.

She smiled to herself in the passenger seat. A pen sat in her right hand and a notebook in her other. In this car were her two loves; things couldn't be better.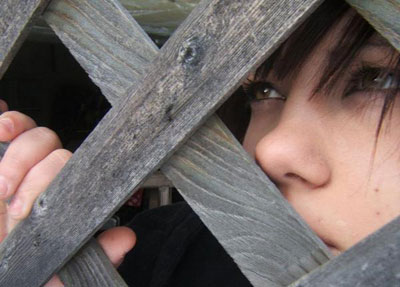 © Krystal B., Bloomingdale , IL