Return
November 16, 2009
Ella shivered, a brisk november breeze blew her long wavy dark hair out around her face. She could feel the tension building in her stomach, but she tried to ignore it, reassuring herself that everything would be fine. She walked a more few blocks, hugging herself to warm up, the thin green sweater she wore over her leotard did little to keep her warm. When she arrived at the studio she flung open the large oak doors, soothed by the warmth of the front room.
She sat down, her right leg curled under her, her left stretched toward the large pale glass window to the side. She bent her body towards it, then stretching to the toe, feeling a sharp pang, chastising her for the month she had spent away from classes. She rolled her torso to the front, then to the right, gracefully circling her elongated leg. She repeated this stretch with the other leg, before lowering into splits. Ella was horrified to see that she was forced to stop almost six inches above the ground, before she had left she had slid easily into her splits. She glanced at the clock, 6:00. She stood up, gathering her hair into a sleek ponytail, then wrapping it around itself and encompassing it in a plain grey bun holder. When she walked into the main room, she was surrounded by the gentle mahogany floors, the twinkling, playful mirrors, the smooth strong barres. Ella flung her arms out around her and began to spin in circles, faster and faster, as she had done as a child. The colors in the room, the browns of the floor and barres, the pinks and whites of the tutus the hung from the far wall, the purple of the gauzy scarves draped over the unused barres and the back rooms; all blurred as she spun. Eventually, loosing her balance, Ella collapsed onto the floor. In a few moments, the shame of her childish movement would come, but in this moment, Ella was exhilarated. She felt free for the first time in months. Just as suddenly as the moment had come, it passed and she felt trapped, alone, confined. She looked up at the ceiling, willing herself not to cry, not to show emotion.
She stood up, holding the barre with her feet in first position. She dipped into shallow plies "a la Balanchine" moving through the different positions. The movement was comfortable, as natural as breathing. Ella tried to keep her mind clear, listening to the silent music that filled the room. She continued through barre in slow silence, in an unbroken trance. When she was done, she walked over to the far mirror and stopped in front of it, placing her hands on her reflection, staring at herself, trying not to judge herself, but simply
observing.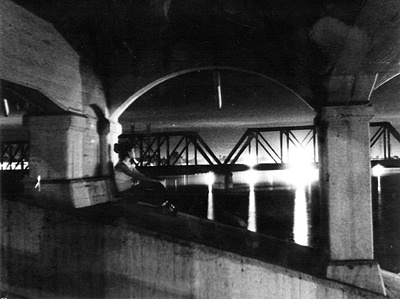 © Joan W., Mesa, AZ