Story of the Fortune
October 24, 2009
I thought my life was terrible. My best friend deserted me because of what I've apparently done to her. I don't know what it was to that day. My friends at school won't say even one word to me. Apparently, I haven't put enough effort in our so-called-relationship.

My best sport was art, and yet, I let myself go from that too. I couldn't think straight. My parents thought my behavior was wrong and they wouldn't dare touch me because of how dangerous I looked.

My sister knew me better. She asked me things, and knew that was the wrong way to go. She finally took me out to dinner.

Chinese was something new to me. I tried it once before, but she would never go for that approach. I ate in silence and only talked when necessary. When my fortune came it said, "You will soon be surrounded by good friends and laughter." I shoved it down my pocket, thinking no more of the meaning of the seemingly ridiculous fortune.

School went on and finally ended a month later and summer went by like a breeze; quick and calming.

The new year came and a new girl came to my school. She had a sparkling smile and bouncy eyes. She was interesting and she kept talking to me. Whenever I wanted to hear the words "blah blah blah", all I really heard was my emotion from the past year. When she finished talking, she always asked how I felt and I would've said, "OK".

The weeks went by and I started appreciating her more. I actually listened to what she had to say and she did the same for me.

A month after we met, she invited me somewhere and I couldn't help but say "Sure I'll come."

It was a party at her house. Her family was there; there weren't related to her in any way, but they were all her close friends. Most people came from far away places and others came from next door.

She introduced me and I felt like the old self I once was. I felt light and happy. I found myself laughing and joking around.

When I left, I hugged and told her, "Thanks". She smiled and gave off a glow that only an angel could give. When I got home, I found a note in my pocket. . . .

It was the Fortune.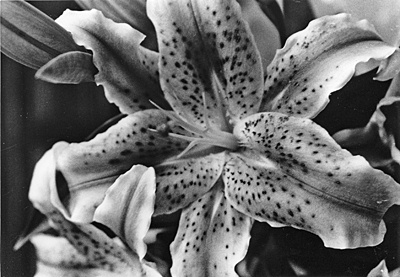 © Jenni W., Jackson, MI