"Christmas Memories"
October 22, 2009
It was the middle of December in snowy New York. Every upstate house in our neighborhood had already decorated for Christmas; the twinkling lights on every house shone so bright each night you'd think it was a multicolored morning.
However, we had only just unpacked the boxes we had stored our decorations in. A chilling breeze blew in from the open window, and I wrapped my scarf tighter as I closed it. When I returned, the logs in the fireplace crackled, and I smiled as I noticed my family's dog lying on a rug before it, taking in its warmth. A peek out the frosted window assured me it was getting closer to Christmas everyday.
Pulling one ornament out of the box, I realized it was the same one my first love gave me, so many years ago but I remember it clearly. We had been walking and window-shopping on a day very much like this one when I spotted a scarlet red, glittery ornament that caught my eye. I commented on how nice it would look on my tree, and he stopped at that moment and bought it for me.
"Remember me each time Christmas comes around." That was right before he left for the war. I send him a letter each week, just to let him know I still think of him all the time...not just at Christmas. But I stopped receiving letters from him a month ago, and I hope he's okay. Maybe he isn't able to write right now. But he's alive; I know it.
I hang this ornament on a branch, and I smile. Leaning down, I pull another ornament out of the box. It was emerald green, not shiny but matte. It was special all the same, a painted snowflake on the front I did in sixth grade. It wasn't the best year for me, but my creativity was at its peak. The best art comes through suffering.
Hanging the ornament on the branch close to the first, I pick out another. This one was royal blue, with a pearly white stripe gracing its middle. And I sit down, still holding onto the ornament as I reach the floor. A cardinal sits outside the window, bright red against the white background like blood in the snow. A sad smile on my face, a slow tear rolls down my cheek. This was my father's favorite...back when my parents were together. And I brush back the tears, standing once again and surveying the tree. I find the perfect place for it.
Christmas always has a way of bringing back memories...both good and bad. Some are happy, and some are not. But with every year, things come back to you that you sometimes tend to forget during the year. And sometimes these things make you cry. Not always. Sometimes you remember the gifts you received, like the first CD you got by your now favorite band, the scarf your grandmother knitted...and the gifts you gave, like that cashmere sweater you just knew your mother would love, and the kiss you gave your first love underneath the mistletoe.
And as I place the angel atop the tree, I remember one last memory. The year my grandmother died. We all still miss her. She is our angel atop our tree, a little broken, but I hate letting go pieces of my past. I think everyone has trouble letting go.
And so our tree is decorated, with sparkly ornaments on every branch. But we didn't decorate it with ornaments. We decorated it with memories. We hung memories on every limb. Only then is a Christmas complete.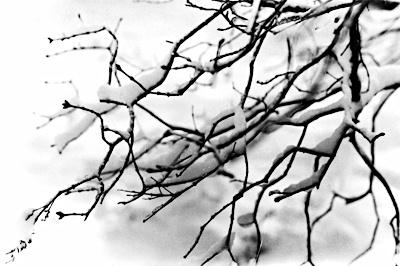 © Lindsey D., Marblehead, MA