A Journal Entry: I Want to Change Something
November 10, 2009
I just finished reading the Outsiders by S.E Hinton. Really amazing book. It makes you think; it makes you feel. I wish I could write like that. I'll write a book someday...at least, I hope I will. Something profound and deep, a literary masterpiece. At the very least I'll finish this journal.

If I ever write a book, I hope it changes something. That's all I really want, is to change something. I want my book, my whole life to have meaning to someone. For them to look at me and say, "I understand. I FEEL."

It must be really late, because my thoughts are running wild. I don't know what time it is, my alarm clock was unplugged and I never bothered to reset it.

I'm thinking about a lot. I'm thinking about all the empty pages ahead of this one, which I'll probably fill up on nights similar to this. I'm thinking that's what life is like, empty journal pages...everything is a metaphor when I'm this tired. The pages are my future, the hand is God's, the pen my circumstance, and the ink flowing from the tip is me, each letter another piece of my destiny.

My future. What will it be filled with? I wonder if it's important. I wonder if a hundred years from now anyone will remember the life of a certain teenage girl who spent the nights filling her journal with pointless ramblings, instead of sleeping. Not to say that I'll be dead in a hundred years. My great grandma lived to be 109.

Like I said, it's late.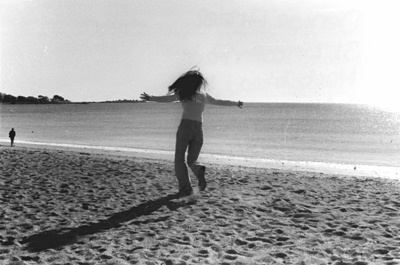 © Denise A., Marblehead, MA