Kissed by Fire
November 6, 2009
"Ezra, I just got a call form Patty, that lady who's house burned down last summer. Yeah, she wants us to do a segment in the paper for fire safety. What do you think?" Rachel said.
I shake my head. "There's not enough room for this week's edition. Tell her I'll call her next week and we'll talk about it."
Even though, I probably wouldn't.
I really feel for poor Patty Carson, but the fire was quite a few months ago, and the story is cold. No one cares. Teenage readers at this school like the fresh gossip. I felt bad, but I didn't make editor for no reason. Glancing at the window, I gaze bitterly at the out at the thick Alaskan snow. More dreary clouds roll in from the abyss to deliver a fresh coat of intricate sparkles.
"Alright." I say, raising my voice so it will reach to the newspaper staff across the room. "Pack it up and go home before we get snowed in."
There was a murmur of agreement as everyone put away or packed up whatever they were working on just a moment ago. Climbing into their winter coats, gradually each one disappeared out into the parking lot to head home. I scrutinize the room searching for anything gone amiss. My eyes land on a glowing monitor. Going to the start menu, I hit shut down, and the computer dims before the screen goes completely blank. As I take my hand off of the mouse, my phone starts vibrating and I pull it out of my pocket. It was my home number.
"Hello." I answer.
"Ezra." A familiar voice squeaks with satisfaction.
"Hey Katie sweetie, what's up?"
"Jake burned the mac n' cheese. When are you coming home?"
"Don't worry," I assured my little sister. "I'm leaving right now. I'll pick up a pizza on my way home."
We said good bye and hung up. I sigh. Jake can't cook. Why would he even try? True to my word, on the road home, I stopped and got a pizza like I promised. The heavenly aroma of cheese, sauce, and grease wafted throughout the little car. My mouth was practically watering.
Katie is five years old, and a total sweetheart. She hasn't started school yet though, so when our parents had to go out of town, they called Jake to come babysit while I was at school. Jake goes to a University a couple of hours away and is turning twenty in just a week.
Pulling into the driveway, I saw a short figure with curly blonde hair wearing pink jumping up and down, and waving vigorously behind the living room window. Smiling, I waved back. Climbing out of the car, I balanced the pizza and breadsticks in one hand while I swung my book bag over my shoulder. Bumping the door shut with my hip, I didn't worry about locking up the vehicle. The crime rate around here varies from zero and below.
We devoured the food as soon as it was set on the table. Leaving the remains to clean up later, we wandered into the living room. Katie and Jake watched Scooby-Doo while I busied myself doing some last minute homework. After Katie fell asleep, Jake picked her up as gently as possible to carry her up the stairs to her bed. I smiled at the dirty feet of the footy pajamas. He called goodnight before retiring to his own bedroom.
I continued working on papers and homework deep into the night, waiting for mom and dad to get home from their trip. But before I knew it, I had dozed off, and when I woke, a crease on my face from the textbook used as a pillow, only glowing embers remained from the recent roaring fire. A conclusion of crackles and pops could occasionally be heard from the otherwise dead ashes.
Peaking out the window, my parent's car wasn't in the driveway. Giving up on waiting, I sluggishly shuffled upstairs to my room. Collapsing into bed, my last thought wondered if I should go douse the remains in the fireplace, just to be safe. But when my head hit that pillow, I was lost to incoherence.
The next time I woke a funny smelled filled the air and a man dressed in neon yellow burst through my bedroom door. The hallway behind him was glowing, and the odd smell became thick and intoxicating. I start coughing as he came and scooped me out of bed. We ran through the kitchen, and through an archway, I saw flames devouring what was once our living room. The crisp outdoor air made me cough even more.
"My brother and sister, they're upstairs!" I cried.
It was then that I saw them appear at the front upper floor window. Katie was crying in Jake's arms. He was clawing at the window, begging it to open as we all were. There was a loud creak, everyone went silent. By now, Katie looked unconscious, and Jake's eyes widened in horror. That was our baby sister in his arms, and she was being smothered by smoke.
I ran for the house, convinced that I could get my family out better than the firemen. Hands grabbed me from behind right before I reached the front door. Flames came bursting out of the house and licked my cheek with a tongue that bit like spikes. The upper floor had given out. And the window that my brother and sister were standing at was gone.
Dropping to the ground, I thought about how Jake was turning twenty in just one more week. He was a local football star, a hero to all. I thought about Katie, and the freckles that tickled the bridge of her nose. She was just a baby.
I could no longer hear my own screaming.
Everything went dark.

A week later, I sit at the desk in the lonely hotel room. I pick up the pen and press it to the pad of paper, tears dripping down my face.
Fire Safety
-Leave no fire unattended.
-Check fire alarm batteries.
-Know your emergency exits.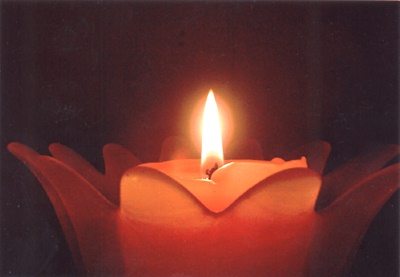 © Sayda C., No. Bergen, NJ