Tattooed Feet
October 12, 2009
Skies bounce as tattooed feet beat upon clouds. Rusted iron doors open and close methodically like a dance, life spinning around the skies. Paths unite, in a rush of whirlwinds, all the while the beat bleeding through ears. Fire. Burning hearts open to all become consumed with the energy, the life. Colors dance. Happy people laughing. All is calm. Fish fly. Tomorrow shines. To let go, to give oneself to the rhythm, to dance, to fly with the fireflies lighting the way. Sunflowers tall above my head holding hands. Patterned sundresses brush calves with cool moist air. Gold and silver shine. Patterns embellished on feet travel up calves, snakes in paradise. Giggling snakes in the moonlight swim in black creeks, tumbling waterfalls. Life stops. Perfect symmetry…
"Lucy!" All is not calm. Eyes watch, disgusted, from behind desks. I look down at my foot; bare skin reflects light back at me, pale as ashen cotton, apart from blood filled veins, nothing. No water, no fish, no snakes. Afraid to look her in the eye, I mutter a simple squeak. Doomful silence replies. Raising my eyes to her chin, her dimple appears darker than usual. A kind of reddish-brown not found in nature.
"Your test…is it finished?" The dimple bounces as her jaw opens and closes.
"Not yet." I stare down at my paper away from the dimple. I push buttons on the calc blankly attempting to find the square route of "x". Variables and numbers swirl about my brain, slowly stirring it to mush. I can do this. Yah right, my whole class knows I can't find "x" for my life. It's why I'm a junior and still stuck in Algebra 1. The only kid in school who has repeated a course four times is yours truly. All since the discovery…my brain is dying. Now completely mush. I drop my pencil, not bothering to get it.
"Are you okay?" Deirdre I think.
"Lucy?" Now Mark, why now?
The rhythm sneaks back into my head. Pulsing, rushing, consuming, the skies bouncing. Her dimple, it dances with rusty doors in the night. Fireflies flip. Tattoos glow. Dimple dances. Mark calls out. Dresses bleed. Jumping birds swim through the light, singing. They beep, beeping, beating. My eyes burst, their veins popping. Pain burns my head and feet. The school nurse? This must be what death feels like. Lights, red, blue, white… noise. I retreat to my happy place, away from the sirens, the beeps. Where skies fly by and girls sing. Flowers dance. Tattoos swim in fish snakes. I tried so hard. It doesn't even matter. I fall, trusting the waves to catch me. They strangle me, turning into grape vines. Walls bleeding, waiting. When it ends a falling star dies. My star. Disdain. Unweaving. We'll make this right they sing. They beep on their side. They cry through their eyes.
It's too late to fight. My eyes must open for the tears must be shed.
"Nana, is that you?" Lips move, more figures. The beeps accelerate, faster, faster. Blond hair, red lipstick, Bobbie Brown mascara, no tattoos.
"Honey, sweetheart, can you hear me?" Mom, she's here, but she's not dead…
I'm not dead…life is upon the air. In my aura, I can taste it.
"Hi, mom…" The white coated man talks, a needle enters my arm, pinching like a snake bite; a snake traveling up my vein into my heart. And the black up my leg. It is dancing, a river in the moonlight. Pebbles scattered on the floor clack mechanically. Loud then quiet again, I see blue, a blue light, I try to scream, but no sound emerges from my lungs, the depthless abysses that they are.
The hammer on my head stops, everything stops, the lights go out. I see white. Voices tell me not to move, but I can't help it, something underneath me is moving. I see a hole to the light. Without moving a muscle I enter it, to see the man's face. He is wearing a white coat. I scan the room.
Immediately, I know where I am. I can't count how many times I've been in this very place before.
"Where's my mom?" The intern looks surprised at my speech, but Dr. Kirk looks the same as always, calm. He is used to my speedy recoveries.
"Good morning, Lucy. Your mom is in the hallway, we will be releasing you today… you fainted in class about three days ago and hit your head." Fear crossed my forehead. He saw this and frowned, knowing exactly what I was going to ask. Normally he gives me a smile and says everything's fine, no worries. Something's different.
"Did I awaken the monster?" This was the real question. The one I'd been dying to ask since I saw his face. I am searching his face for the answer of a lifetime. Waiting is a tedious task especially when you are waiting to hear your fate. This is life or death. Listless time passes, until I hear his voice. I am wheeled out into the hallway on the hospital bed; I watch my mom's face as he tells her the news. The tears, pouring like rain, familiar arms wrapped around my neck. Nothing is real.
"How long do I have?" I had to ask, I still want so much in my life.
"About one day until symptoms of amnesia start, then a few hours after that disorientation, dizziness, the tumor's grown a fascinating amount in the last month. I've never seen anything like it. The last few hours could be excruciatingly painful. Of course we can put you to sleep for all of this, if you'd like."
"I'd like that."More waterworks, my mom can't stand this. I have to get her out of here, give her a task. That will help. I have to find something to take her mind off of this, anything.
"Am I free to go?" The doctor nods. Sitting up for the first time is the hardest part, my back cracks into place, and I can feel my ankles align as they hit the floor. She's still crying, so I take her hand leading her to the front desk. I want to cry as a watch her try to hold a pen to sign the release form. I don't. Even the lady at the front desk pities her; you can see it in the way she offers mom a tissue, her fingers slowly dancing to the tissue box behind her.
"Mom, can I get a tattoo?"
"Anything you want sweetie" she wipes her face. I watch as the black tears stream down her face like ink.
"Where do you want it?"
"My foot… and I want it to travel up my calf like a backwards river, with fish flying and snakes swimming."
I listen to the beat of feet on the city streets one last time, before I dance into the clouds forever.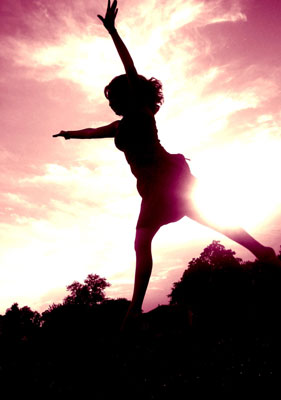 © Martha V., Morton Grove, IL