Exerpt
September 26, 2009
The elder woman strolled into the room, gracefully but extremely curt. Her inferior relative moved briskly, as not to stand in the same spot for more than a milli-second. She wouldnt want to take the chance of tripping her superior. As they entered the room, the elder woman scoffed at the mess, you could hardly see the floor.

"It's so messy in here," she said ouit of the coner of her mouth, somehow keeping her mouth in a thin, compressed line. that set of her lipa always made you want to live up to her expectations, making not living up to them seem like a crime.

"Why is it such a mess?" hse questioned with a hard glance out her right eye.
"Because i like it messy." answered the young lady, as everyone reffered to her as, but her soul was as crazy as a wild mare's, searching fo rthat wild mustang.

"Why do you like it messy?" the woman was taken aback, any rightful lady would have a heart attack if her room was like this.

"Because it's cozy."

"Messy and cozy are two very different things." scolded the woman, her bony, shrivled hand still held justice and order as it was placed sharply on her hip.

"To you they are," this set the elder woman off the edge, this could not be. yet the wild mare had already galloped far far away.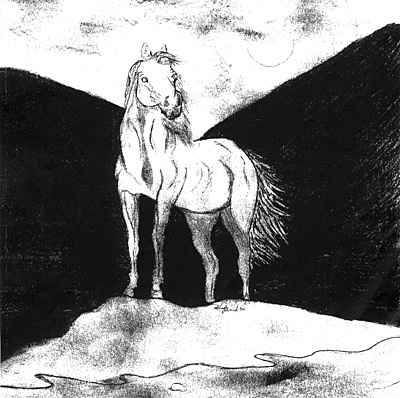 © Melissa W., Whitehall, MT