Forest Games
July 1, 2009
Our steps are quiet, as not to wake them. It was wrong but the clock read midnight and the night was calling. The wind moaned our names and the night was calling.
I taught him hoq to dance between graves and love the dead. Love the living, love everything in between. I know he'll never speak of this again. I don't blame him.
It's morning as he starts to come down. Happiness is a draining and powerful drug. It only lasts for so long. It only strives in dark. He climbed the stairs and had fun on the roof, now it is time to come down. It's painful but we all must come down.


I showed him how not to be perfect, how not to care, but that was too much for him. He had to have his fun in moderation, be a good boy Monday through Friday, get his homework in on time, clean his room. But on the weekend he would dance with no one to supervise him, no one to loom over him and control his motions. On the weekend he didn't care.
He probably thought this was all a dream, which is for the best. But it was very real. More real than anything you've ever known. I couldn't fathom what a strustured boy like him could be doing out in the woods late at night. Stumbling over tree roots, looking groggy, like a new born baby deer. So, beautiful, standing there glowing in the moonlight, taking in all of his surroundings.
We got him drunk off of his own mind with thoughts he'd never dare think in the sun. We sang and spun freely; galloping through trees and watching them jump out of our way. When the fun was over for the others they fell fast asleep and we kissed there heads and watch emotions play wistfully across his face. But he and I were far from resting and calming our brains.
He was clumsy when it came down to it, falling over himself while he danced, and I heard his heart beat through his chest. We settled by the fire and I could tell he trusted me, but only for now, only while he was vulnerable. I felt powerful with his vulnerabilty tempararily in the palm of my hand.
He fumbled unadroitly with a strand of my hair and I grabbed his hand, 'You don't have to do what you think you're supposed to.' So he relaxed and the night ended with me leading him back to his house.
'I'll be back, you know that right?'
'I know.' I lied. 'Goodbye.'
Saying goodbye isn't the hardest thing I've ever done, nor is it the hardest thing I'll ever do. I've said goodbye to plenty of people and places that I've fallen in love with.

While the summer turned to fall the brown haired boy still hadn't been back, I could tell he never would be. But he comes to me in dreams and tells me he'll be back. But dreams lie, just like people do.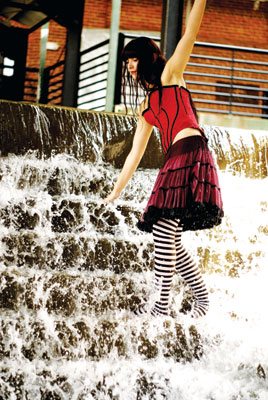 © Daniel H., Durham, NC