Your Own Summer
June 10, 2009
"You need to watch it! I read these things have chemicals that cause cancer!" Em gasped, snatching the small soda can from my hand. The condensation ran down the palm of my hand.
"Can I have that back please? Last I checked, it was perfectly legal to have a can of diet ginger ale," I retorted playfully.
Poor Em was so uptight about human health. Well, at least she had been since Johnny was born. She was a good mom. But she didn't have to act like MY mom.
"Yuck. Suit yourself, Jenn." she shot back. I looked up at her. Emily and I had been friends since the first grade. Now that we had graduated college, things seemed different. It was hard to tell whether or not she was joking. "Can I ask you something?" she said suddenly. Our tanned legs dangled haphazardly in the kiddie pool in my backyard.
"Sure," I shrugged. "Go,"
"Well," she began. I immediately thought of all the things I might have done to spark this conversation. Her eyes were awkwardly fixed on a piece of plastic that had broken off Johnny's Tonka truck several weeks ago. It was now wedged in the grass.
"It's just about Josh."
Oh no, I thought. I hadn't thought about Josh. Why would we even talk about him? I didn't care what he did now. He was always getting himself into trouble. I couldn't take time to think about his screw-ups.
"It's just..., I'm afraid that he's divided us. Is that true?"
I shook my head vigorously. "Of course not," Lie.
"I don't care about what you guys had. It's all in the past okay?" Another lie. Honestly, I'd spoken to Josh in an e-mail back in June. He'd asked me if we were "Still friends" whatever that meant. Had we even ever been friends? I nervously started running my finger along the fish shapes on the side of my kiddie pool. I always touched things when I was nervous. My mother always told me she could see right through me when I was touching something. A dead giveaway.
Emily placed my half-empty soda can back into my palm gently.
"I never told you I was sorry, Jenneane." She squinted under the July sun. I shook my head once more, this time, fully genuine.
"You don't have to apologize, Em. I know we're friends. Yeah, it took a couple eventful summers to teach us that but... we're still friends. Still friends, I thought. Whatever that meant.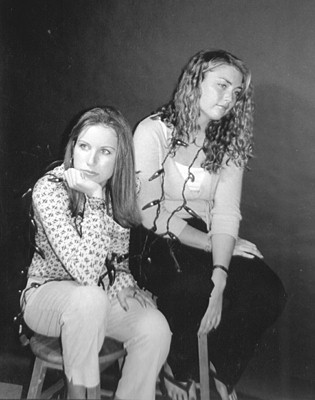 © Hadley B., Marblehead, MA