The Only Parent
August 15, 2021
Girl of mine, I feel so fortunate just to know that you're breathing. Just thinking of the sunshine and sprinklers on your bobbing braids, and your white, pretty smile makes me feel anguish—to know that I came so close to taking everything from you. Girl of mine, you're growing fast, frighteningly fast, and I see your eyes grow into a stranger's as you take in these madly whirling changes, these devastating events that have stripped you from your innocent world of jump-rope rhymes, dollhouses, and hopscotch. Girl of mine, I want to tell you everything's all right, that I, your Mommy, am coming home soon. But then I'd be a liar.
Girl of mine, as you sit on the porch swing with a strange, knowing look in your dark eyes, flipping through the family albums and scrapbooks, boring into me with those ancient coffee-eyes of yours, as you ask questions about why Daddy did this and Grandma did that and why you are here, and where babies come from, and do I believe in God, and do I love you—girl, those eyes have sliced my soul to its core. I'm afraid of you. I'm afraid you already know the answers to your family questions, and you find them hard to hold in your ten-year-old self, so you are testing me to see if I will admit the dark, black truth. Girl, I haven't found a fraction of the answers. I'm still climbing, and I wonder if I'll ever get there.
Girl of mine, you sat on the living room rug and picked apart a pipe cleaner while I broke the ancestral vase. You calmly watched me fling it as hard as I could into your father's face, and how angry I got when it missed. When I came to myself, you had the shop-vac and were sucking up the glass, and you told me to take care of myself. Did you hear the door slam as your father left, sucking all the air and color from the world?
I drove your father to despair. After all the broken glass and shoving and pushing you witnessed, I don't know what to tell you. It seems cruel and selfish to say I love you. First, I need to apologize and make it up to you and cut out the lies and explain myself. Girl, we all need each other's forgiveness.
Girl, I was fresh out of the gutter when I met your father. I was a harp-player on the streets of New York City, and he was the taxi-driver who escorted me to my very first concert. He was a beautiful, black-haired, golden-eyed man, and I felt so moved by his kindness that I serenaded him with a love song on my harp. I thought he would forget me after I botched the concert and ruined my career, but he was waiting for me and took me to a Russian café, where he suddenly poured out his heart, gave me a ruby pendant, and proposed to me. I was shocked. I had known him seventy hours, and we were engaged. When I was in his arms, I forgot all I'd done wrong and my lack of talent and refinement, and my own ruined childhood. I won't go into the heart-rending details. Your father was forty when I was nineteen, and that had something to do with it. Let's just say that Mommy had brought bad habits into her marriage, habits that had to do with pills and bottles. I suddenly turned against him when he told me to give them up. I told him awful things, and I said that if he didn't like it, he could walk out on me. Then you came along, and we forgot and were happy. But happiness was short-lived…and, well, no more details.
Girl of mine, lots of people have opinions of you, but let me tell you the straight truth—your father and I can't get along anymore. We both love you, but it won't work out between us. This is very sad and depressing to write, and I'd cry a river for you, but take comfort in knowing that you, the only child, are one special creation. All the best and all that is true and good in both your parents is yours, and you will carry your fortune and our name down the line. We are counting on you, and I never knew such a worthy and loveable treasure of a child as you are, Leesha.
Girl of mine, when the rain is falling fast and the days get cold and life is impossible, please remember to be kind and aware. I fear for you. Don't lose sight of compassion and understanding, in the heat of grudges and dark memories. When all that's been said and done is over, your kindness and truth will shine brighter than the stars.
Girl of mine, if you find my words impossible to figure out, or if you think I'm nothing, just remember, your Mommy loves you. Be fully prepared to take blows and disappointments and have your rainbow-bright illusions shatter. Yours is my harp in the closet. I can't play the harp anymore. My hands are too shaky, and, of course, it's not allowed in prison. Girl, when you play my harp, one day you might be playing it for a special person you love, just like I did. That day will come when you look into his eyes and see your own soul staring back, as the music serenades you outside the city café. When rain falls on your love, when you're looking for something better, when you feel all alone and misunderstood—take good care of each other.
Girl of mine, nothing in life really matters to me, except seeing how wonderful you become and how you will shine.
I am yours, always,
Melva (Your mother)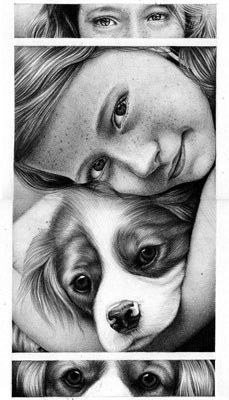 © Monika J., Panevezys