Rock a' My Soul in the McDonalds Drive-Thru
April 20, 2021
"Now you put the car in reverse," I told my son, Robbie. "You watch out for that Prego tomato sauce truck and—no! Not. So. Fast. Not into that mailbox. STOP!"
Only the squealing tires and muttered cuss words reminded me that I wasn't dead. Like most fifteen-year-olds, Robbie lacked an inkling sense of physics. He wanted to take my rusted 1993 Taurus to the racing strip "with the other phat dudes." He was convinced that I drove like a nursing home resident, and that I was forty-five years' worth of stupidity and ignorance.
"Dad was so dumb and ignorant not to replace [obscure car part]," he yelled above the clunky transmission. "Trust me, Dad doesn't even know what a spark plug does."
"I don't think you know what a washing machine or a toaster does," I said. "And don't call your dad dumb one more time. Or else I'll take control of this car and drive it straight into a mailbox, like you did when you pretended to be stoned and scared the spit out of me. If you call your father dumb again…I don't know how crazy I'll get."
Robbie grinned. He was going to see how crazy Mom would get.
He steered into the McDonalds drive through and ordered a cup of water, like he'd done thirty times in twenty-four hours. The people in the drive-thru were at their merry wits' ends and about ready to call the cops on us, having us arrested as public nuisances. "Don't block other real customers, or we'll smash a McChicken burger in your face," the kid behind the counter warned.
"This isn't working," Robbie said, as he threw his paper cup of water out the window. "We'll have to practice driving at Taco Bell."
"Everything will be just wonderful," I sighed. "But don't leave McDonalds yet. I need my iced coffee and fudge sundae fix for risking my life, teaching you to drive. And you have to pay for it. Face it, night's falling, your little sister is home alone with a burning pot roast, and your father's car gave out on the freeway."
"Dad's car gave out because he was stupid," said Robbie. And then my soul snapped like an overstretched guitar string.
My heart is a broken spark plug. My heart is a cup of water dumped in the McDonalds parking lot, my heart is a carburetor, my heart is burnt pot roast. My heart is an achy foot, my heart is a jammed gas pedal, my heart is a rearview mirror. I couldn't explain why I was all these things, but they were true. Crazy, but true. My heart was Mars and New York City and true love, three place I had never visited. I looked into Robbie's pimpled, greasy face, and I saw it. I saw myself, Bett Martin Moore, when I was his age. And I knew, behind all those walls of stupidity and ignorance we built, we both wanted to hop a freight train and escape. We wanted to escape to the same place. Only we didn't know where that was.
I would rather drown quickly in the sea than slowly suffocate on land.
Get it off your chest, Bett Martin Moore. Get it off your chest. Well, here I go…
"I don't care if you want to talk this and that about your father's stupidity and car parts and illegal drugs," I said. "I love your sweet baby face. And I love your little brother and your little sister. But you and me—we share this bond nobody can understand."
"Cut out the sappy talk, Sappy Syrup-Mom," he said. His foot jammed the brake pedal.
"You and me, we have to cut out these lies and get down to the ocean somehow. If we drown in the ocean together, I don't care. Pull me through all the fires and hurricanes, Robert, pull me through. Now take me straight down to the ocean. I don't care how many miles it is. We'll decide what to do once we get to the sea."
Robert looked at me like I was a crackpot, but a chip-toothed smile crossed his face. Mom kept her promise and went crazy because I called Dad stupid. Now I wonder what she'll do. Boy, oh boy!
He was catching onto my thoughts. He said, "I'm your Bible, I'm your banjo, I'm your spitting image. There's nobody left in the world except us—you and I, Mom. We're not even two different people. You're right, we've got to waltz through this life in each other's wooden shoes. Mom and I. I and Mom. We'll drive down into the ocean. We'll hop a cargo ship to Samoa."
The lights of the town stung my eyes. They blazed hotter and hotter. My throat leaped like there was a baby horse down there, standing on its shaky new legs. Robert's hands grasped the steering wheel skillfully. He didn't slip and slide around like butter on a griddle.
"We're having fun, but our adventures haven't begun yet," I said. Darkness leaked across the sky, like the iced coffee and fudge sundae were leaking across the backseat.
Who are you kidding, Bett Martin Moore? What are you doing? How far have we have we traveled, and where are we going? What am I even hoping to find?
I had no idea. I would decide once we drove down to the ocean.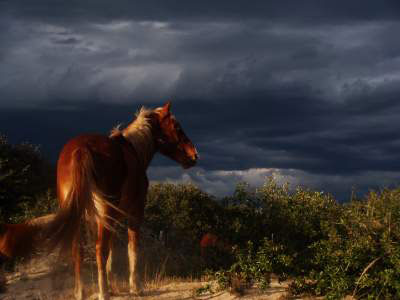 © Katharine H. Greensboro, NC