Rewinding Time
January 13, 2019
I would do anything to rewind time.
~
"Ashanti, you better hurry up. Andre said he's five minutes away!!"
I finished up perfecting my eyeliner, and hurried out the bathroom. It was me and Andre's 4 year anniversary. Everyone around us was shocked we even lasted so long, but that's what makes us special in my eyes. We've been through everything, and we got through everything. After days of debating we finally decided on Maggianos, a little Italian restaurant in the city to kick off our weekend celebrations.
"ASHANTI. I know you hear him outside honking that loud ass horn disturbing my nap. Pick up the damn pace!"
My sister was always yelling when it came to Andre. But I think she was just a liiiiitle bit jealous. I grabbed my purse and ran out the door to see Andre leaning against his dads all new 2019 Mercedes-Benz CLS with a huge bouquet of blue roses.
"Happy Anniversary Baby!!!" He yelled excitedly as I ran to him. We hugged for a long time before getting in the car, I hadn't seen him for a WHOLE entire two days.
"So Maggianos, huh? We're gonna be in the car for a hot minute. Why couldn't we just stay home, watch movies, and cuddle again?" He questioned.
"Becaaaaauusee. We've been dating for 4 years babe! We have to make this weekend super special. We gotta go alllll out." I replied.
"Alright. But only because I love you. Trust me I wouldn't take this hour and a half ride for no one else." He said smiling at me.
The car ride was nice, especially because he borrowed his dad's new car. We were riding in style. We sang songs, played games, cracked jokes, planned out our future (like we always do). Big mansion, four kids, and two dogs. No one could tell us that our lives would go any other way.
"Oh shit, Shanti. Remember this song? We used to listen to it all the time when we first met!!" Andre said while turning it up.
It's like I waited my whole life, for this one night, it's gonna be me you and the dance floor. Cause we only got one night, double your pleasure, double the fun.
We sang along and rolled down the windows. Andre sped up a little so the wind could flow through my hair. He knew that I loved that.
As we enjoyed our car, I began realizing that two cop cars had been following us for pretty much our whole time on the interstate. One on the right of us and one behind us. We were enclosed.
Sone enough sirens were going off around us. Confused, Andre pulled over.
"What are we being pulled over for?" I whispered scaredly to Andre. He shrugged his shoulders. Thoughts flooded my brain but were interrupted by a violent knocking on the drivers window.
"License and Registration" he spat at us. Andre quickly handed both over.
"19? And what is a 19 year old doing driving a Mercedes Benz?" He said smugly.
"This is my father's car sir. He let me borrow it for the night." Andre responded formally.
"Hmmmm, step out the car." The other responded firmly.
"May I ask why? I was driving the speed limit, seatbelt on, all that." Andre stayed, starting to get a little bit defense.
"Call for backup" the officer yelled behind him. "GET OUT THE CAR NOW!" He yelled.
Andre was frozen. He was terrified and so was I. Andre didn't know what to do. But the officer decided for him. He quickly opened the door, grabbed Andre, and threw him on the floor.
"STOP RESISTING. HANDS BEHIND YOUR BACK. STOP MOVING" The officer yelled.
"ANDRE BABY ARE YOU OKAY" I screamed from the passenger seat. I was too frightened to move.
"BABY I'M OKAY, IM OKAY. SIR I CAN'T BREATHE. PLEASE GET OFF ME I AM COMPLYING. ASHANTI CALL MY DAD AND TELL HIM--"
"ANDRE? ANDRE? TELL HIM WHAT?"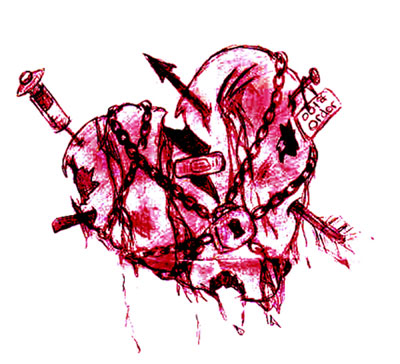 © Asia B., Hudson, MA