Nazi Walk
March 27, 2015
While I was walking down the street with the Nazi men pushing me along. I looked around at the people on the street watching. Some look happy to see us pass and then some look sad with sad smiles watching us.  My thin clothes cling on to my sides as I'm freezing. We don't get much clothes and my shoes have holes through them. My hair falls limp and I feel embarrassed with everyone watching me. I try my hardest to not cry because one of the Nazis will have to hurt me. Some of them hate what they are doing to us, but I'm just going to work, right? Or are the rumors true and I'm going to die?
I glance at the scared children clinging on to their mother's hands marching along me. That child's life is worth nothing any more. The Nazis make sure that none of us are worth anything. They strip us all of our humanity and dehumanize us so they don't have to think about the real crimes that they are committing.
With all that they have done to me I feel like I know why they don't want to see us as real people because you can see in the eyes of some Nazi men that they are being forced into doing this just like I am being forced to walk down this road.  What I don't understand is why, why are people doing this to me? I don't know what I did other than being Jewish.
They push me forward with a hard shove. I slowed down while I was lost in my train of thought. I must catch up or they will beat me.
I catch up to the others marching with me. They all look so weak and starved. I wonder do I look the same. We all help one another but at the same time it's me or them and we all seem to want to survive. We all look out for ourselves though in the end. I pray and hope we all survive, all live another day.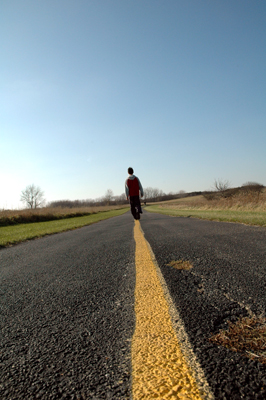 © Seita O., Palatine, IL