Chains
November 30, 2012
He woke in chains. His naked body huddled on the cold, damp stone. His feet were bleeding and numb: his hands shaking and useless. His frame was short and scrawny. Prominent ribs threatened to split the skin. His head was bald, spattered with patches of long, filthy hair. His face was sunken, bruised, and gaunt. His eyes were dim and dead, reflecting the room perfectly in their gloom. His knees knocked together, rattling his worn skeleton. His arms protruded like sticks from his torso, about as big around as a quarter. His skin hung limply over a sack of bones and blood and organs. His naked body quivered on the floor. His eyes stared blankly at the ceiling.

Maybe once he had lived in a small town in the country. He had taken his first steps in front of a crowd of adoring friends. He had learned that two plus two equals four and a noun is a person, place, thing, or idea. He had swam in the lake, fell in love with the beautiful girl of his dreams, kissed her and married her, and settled back down in that small town in the country. Maybe once he had been sent to war. He had shot men and been shot at. He had hoped to bring home some scars, some medals. He had hoped for a lot more actually. He had hoped for his life back, his wife, his small town in the country. He had seen too much to go back and he had known it. He hadn't wanted to go back then. He had left it all behind him. He had cried.

He closes his eyes. His wife appears. She slowly, gently caresses his face. She moves her mouth, pleading him wither her eyes, but no sound emanates. She grabs his arm, she beats on the chains, tears run down her face. She collapses to her knees in front of him. He tries to say something to comfort her, but his mouth is glued shut. He tries to reach out and toucher her, but his hand glides through air. He longs to feel her warmth again. He longs to feel her soft, golden hair, her smooth, pale arms, her crimson cheek. But the image is dissolving before his closed eyes. Don't go, don't leave me, he whispers. His voice is hoarse and cracked and strained from months without use. His throat clenches around the words, begging them not to be spoken. Don't go. Don't go.

His eyes shudder open. If there had been anyone there to see it, they might have seen a burning fire in his eyes. They might have seen a dull glow of longing. They might have seen a cold, blue flame, seemingly melting his eyes into a pool of tears. They might have seen the reflection of the room. And those that do not see, might have seen dim, dark, dead, hopeless, eyes.

When the time finally came, I would like to think he welcomed it with open arms, a grateful face, a swelling heart, a relief of the mind. I would try to convince myself that. However, I will always be wrong. He greeted the end as the thing he'd become. He greeted death as the dead would. He had already given up. He was already dead.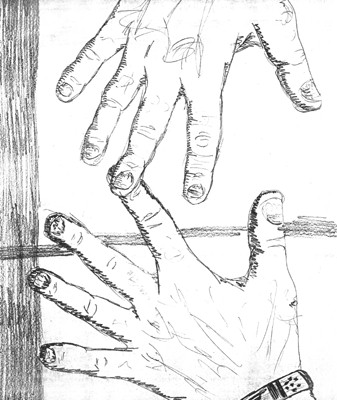 © Katie T., Hull, MA