When I'm gone...
February 1, 2012
"Don't miss him or you will pay for him!"
I could hear them although the snow was ravaging the earth. All the animals ran into their lairs and probably were watching what would happen from their warm and safe burrows. For my luck the forest occurred from frequent and large trees so I had a little probability for escaping. The world was unfair, other world had overflowed with blacks and still confederation soldiers were trying to slaughter innocent people. If I could wriggle out I will charge them. If I can reach my guns...
"Commander he is here; stop or I will shot you black slave!"
I leaned my back to an old and thick oak tree and bellowed from there.
"Please I have three children and my family had died because of the war. Only I can look after them."
This time the answer came from another voice.
"You had to think all about this before you killed the boss; why did you? You were surviving under his auspices of him and working in the cotton fields."
I sound something between laughing and sobbing. He couldn't understand; he was a soldier so he couldn't understand. Such an unfair world, I prayed to the God last time and pick a sharp stone from ground when I was thinking what this would help me about.
And I ran with my whole speed and power. Wrong choice. They were already blockaded me when I was having the conversation with the commander. Something happened which didn't happen for decades. Tears were coming from my eyes but those tears weren't for me, for my desperate children who would be orphans; who will be alone in this brutal world.
At the end what I was waiting happened for the war years. Firstly I couldn't figure out but when I felt the intolerable pain on my old chest I looked down there and saw the hot and fluid red liquid. Suddenly my legs couldn't sustain my body and I buried to the thick snow layer.
Finally I couldn't maintain to surrender myself to the comfortable darkness and I have begun to my last sleep.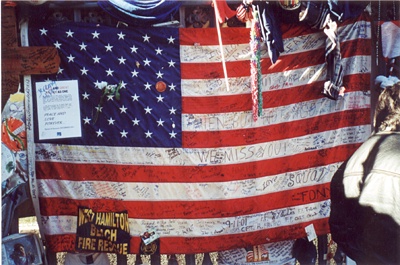 © Ashley F., New City, NY