Don't Cry for Me
October 23, 2009
My skirts brushed against my ankles, flapping wildly in the strong gust of wind. My husband stood next to me; the buttons on his army uniform glistened under the musty morning sunshine. He held my hand in his, possibly for the last time. I could tell he didn't want to leave me. Not now, when we were just expecting our first child. I moved my free hand on top of my stomach, which was just beginning to become rounder. The lieutenant yelled out some sort of orders that were unintelligible to me. Jack gripped my hand tighter. He turned to me,
"Molly, remember, no matter what happens to me, I'll always love you."
I could feel the truth behind his words. His hand grabbed my other one. He brought both of them to his mouth, kissing them tenderly. I could feel the tears slipping down my cheeks. He brushed them away for me, kissing each of my cheeks. I wrapped my arms around his collared neck as our lips finally met; the warmth of his warming up my cold and chapped ones. He held me in his arms once more. I felt so safe there! Why does he have to go be a hero? He released my hands as he kissed me one more time.
"I love you."
"I love you, too, Jack."
He turned then and headed to his fate. I almost felt like running after him. But, no, I remained frozen where he had left me. He took his place in the sea of men. My eyes followed him sadly.

Before I knew what I was doing, I felt myself running down the hill towards him. I called his name as loudly as I possibly could. He spun around, swinging me up into his arms as I flew at him. I clung to him like a child being deprived of its mother. He ran his fingers through my wind-blown hair.
"Molly, Molly, I don't want to leave you," he whispered pressing me closer.
"I don't want you to leave me either," I answered kissing him again.
"I have to. I need to do this, Molly. Understand that, please. If I didn't feel like I had to, I'd never leave your side. But, I need to go."
My eyes bubbled over with tears; which streamed down my cheeks. He brushed them away again.
"Don't cry for me, dear Molly. I'm always in your heart."
He let me go then. I knew that was my cue to leave. I did so after smiling sadly at him. He waved slightly, then turned to attention in his line. I walked reluctantly back up the hill, leaving my heart behind.
"Don't cry for me, dear Molly," rang through my head like a bell. I rubbed my hand over my stomach. "I'll always have proof of how much I mean to you."


I turned around then and watched him walk away, maybe for the last time.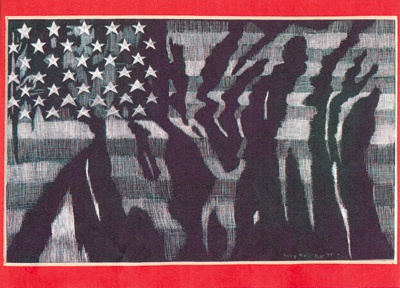 © Haley M., Ellinwood, KS